Ridley Scott's latest foray into science fiction is nearly due for home release. Prometheus, something of a prequel for the Alien franchise, found more than it's fair share of controversy upon release, attracting equal amounts of praise and questioning. Indeed the promise being touted for the home release is that "questions will be answered".
There are three separate releases coming to Australia on October 7, a standard DVD release, 2 disc Blu Ray and 4 disc Blu Ray Collector's Edition. Those expecting an extended Director's Cut will be disappointed to learn that only the cinematic version of the film is being released at this point in time, although an alternate opening and ending are included on both Blu Ray versions. No doubt any significantly different cut of the film will be helf back for future release.
Fans and debaters alike will no doubt be after the 4 disc edition, which in addition to the alternate scenes comes complete with a behind the scenes documentary titled "Furious Gods". All up there are over seven hours of bonus features to potentially shed some light on some of the more obscure/confusing aspects of the movie.
Full details of the special features are as follows: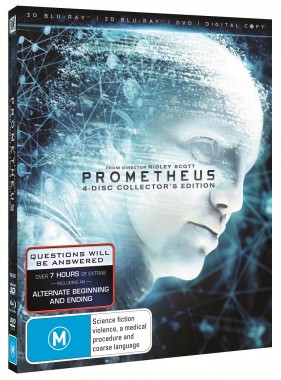 4 Disc Collector's Edition Blu Ray
3D Theatrical Cut of Film
Theatrical Cut of Film
Commentary by Director/Producer Ridley Scott
Commentary by Writer Jon Spaihts and Writer/Executive Producer Damon Lindelof
The Peter Weyland Files
Deleted and Alternate Scenes that include an Alternate Opening / Ending
Prometheus: Weyland Corp Archive Second Screen App
The Furious Gods: Making Prometheus
Enhancement Pods
Weyland Corp Archives which includes Pre-Visualisations, Screen Tests and more
DVD & Digital Copy
2 Disc Blu Ray Edition
Theatrical Cut
Commentary by Director/Producer Ridley Scott
Commentary by Writer Jon Spaihts and Writer/Executive Producer Damon Lindelof
The Peter Weyland Files
Deleted and Alternate Scenes that include an Alternate Opening / Ending
Prometheus: Weyland Corp Archive Second Screen App
Digital Copy