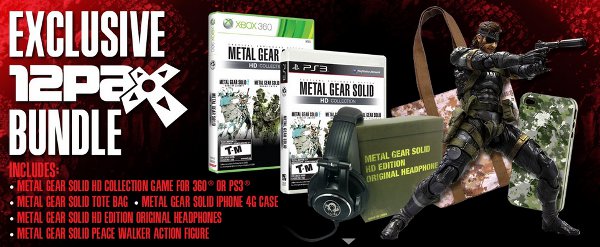 Konmai fans will be pleased to find out that they now have a new way to purchase any and all of their Konami related merchandise.  Konami's new online store Konami Style not only features software for console and portables, but exclusive merchandise straight from Japan.  If these are the kind of things you are looking for Konami Style is probably the place to get it.
In honor of both the new service and the 25th anniversary of the METAL GEAR series, Konami Style has a special bundle, pictured above, specifically tailored for those fans, which includes:
METAL GEAR SOLID HD Collection (either Xbox 360 or Playstation 3)
METAL GEAR SOLID: PEACE WALKER Solid Snake figure
METAL GEAR SOLID tote bag
METAL GEAR SOLID: PECE WALKER iPhone 4(S) case
Limited Edition headphones
Certainly a pretty solid bundle for fans looking to get a little extra.  Players can check out the Konami Style online store HERE.