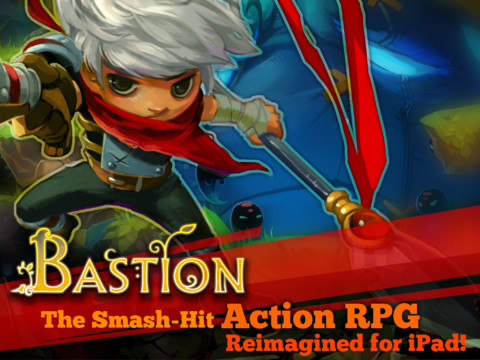 Welcome back for this week's iOS Game Suggestions. If you missed or are new to the suggestions, click on the link below and check what cool games you should be picking up for your iOS along with the introduction and disclaimer on how the suggestions work. (suggestions 1 has the disclaimer and how it all works)
MasterAbbott's iOS Game Suggestions
A great week on iTunes, as always it started slow and but ended with a bang! As always there certainly is a few must buy games this week in all departments, FREE, 99c and over 99c. This week i've suggested a total of 20 great quality titles. Make sure you check them all especially Bastion, Final Fantasy Dimensions, Dragon Island Blue, McPixel and The World Ends With You  just to name a few.
Break down below :
7 – FREE Games
5 – $0.99c Games
8 – Over $0.99c Games
As always for this week's suggestions are all new titles that you should take a look at and consider spending your hard earned iTunes cash / time on.  Well the Free games just below certainly should all be given a shot as they won't cost you anything!
For The Cheapskates – FREE GAMES
 

MASTERABBOTT'S FREE GAME PICK OF THE WEEK!

Activision Anthology – Price : FREE – Publisher – Activision (Download Activision® Anthology to receive the classic hit KABOOM!™ for FREE, and collect up to 45 classic Activision® and Imagic games! Pitfall!™, Kaboom!™, River Raid™ — everyone remembers these great Activision games on the 2600 console. Now, for the first time ever on your iPad, iPhone and iPod Touch, relive these classics and experience the phenomenon that started the video-game revolution. This one-of-a-kind compilation offers the entire Activision 2600 catalog in one app, with controls designed and optimized for each game. Each game is presented alongside the original box art and manuals for retro lovers, and features Game Center support and the ability to earn digital versions of the famous game patches!) on iPad & iPhone. GET IT NOW FOR FREE

Blood Brothers – Price : FREE – Publisher –

Mobage

 (Even the righteous must sometimes leave their mark in blood… Blood Brothers has thrilling battles, mysterious characters, and a story that will keep you riveted from start to finish! This dark fantasy RPG from Mobage is easy to learn, but difficult to master — an experience unlike any you've had, right at your fingertips.

) runs on iPad & iPhone.

GET IT NOW FOR FREE

 
Time Geeks & Friends – Price : FREE – Publisher –

Ivanovich Games

 (The hit of "Seek & Find" returns with a spectacular turn based social game that tests your visual keenness looking for fun and wacky characters inside incredible and colorful scenarios filled with humor. No complicated register forms or endless tutorials: Step into the shoes of Time Geeks playing with friends or against any random opponent and be the first one to find all the hidden objects. Instant fun!

) runs on iPad & iPhone.

GET IT NOW FOR FREE

 
Robot DIR – Price : FREE – Publisher – 

Frozen Logic Studios

 (Help DIR find his family of cute hedehogs and join this epic adventure! Play through 60 levels and two different worlds with innovative challenges and high end graphics! Key features: 60 challenging levels, FREE Updates with new levels, Universal app, works on all devices, Innovative control: single touch control. Easy to play. Amazing graphics and animations

) runs on iPad & iPhone.

GET IT NOW FOR FREE

 
Blood & Glory: Legend – Price : FREE – Publisher –

Glu Games

 (Return to the arena and bask in the blood-hungry cheers of the crowd as you fight to become a LEGEND! The top-rated arena-combat game continues with Blood and Glory: Legend! Equip lethal weapons and epic armor in your quest to achieve blood-soaked victory! MOTION COMIC STORYLINE: Journey through the Empire, leaving blood-thirsty bosses in your wake as the all new animated comic story unfolds!

) runs on iPad & iPhone.

GET IT NOW FOR FREE

 

The Last Driver – Price : FREE – Publisher – Chillingo (In a world ravaged by Nuclear Annihilation, Zombie Apocalypse and Alien Invasion there's only one way to drive: FAST and DANGEROUSLY! As The Last Driver you must career through a ravaged cityscape blasting zombies out of the way with an arsenal of car mounted cannons. This IS NOT 'Drivers Ed' this is SURVIVAL!) on iPad & iPhone. GET IT NOW FOR FREE

 
Final Fantasy Dimensions – Price : FREE – Publisher –

Square Enix

 (Drawing upon the roots of the series with such features as beautiful 2-D pixel art, a battle system involving job change-based character growth and ability combinations, and a classic story of light, darkness, and crystals, FINAL FANTASY DIMENSIONS delivers the best of FINAL FANTASY, retro and fresh alike, directly to you.

) runs on iPad & iPhone.

GET IT NOW FOR FREE
For The Bargain Hunters – 99c Games
 

Granny Smith – Price : $0.99 – Publisher – Mediocre (Granny Smith loves her apples, but a bewheeled thief is stealing from her precious garden! Help Mrs. Smith as she swiftly skates through farmland and cityscapes, crashing through everything from barns to offices in the pursuit of fruit. Get to the apples before the thief does! Granny Smith is a fast-paced racing platformer filled with spectacular crashes and amazing stunts. Jump, glide, swing and smash your way through 36 hand-crafted levels in three distinct settings. Just be sure to land on your feet!) runs on iPad & iPhone. BUY NOW

 

Quiet Please – Price : $0.99 – Publisher – Nostatic Software (After an annoying day at school, you just want some peace and quiet. But everything at home is so noisy! Mr. Peabody is obsessively mowing his lawn, Dad is channel surfing and Mom is yapping on the phone. Your pesky kid brother won't go to bed, and even your pet kittens are driving you crazy! Explore, interact with your environment and solve puzzles.) runs on iPhone & iPad. BUY NOW

 

Ballonia – Price : $0.99 – Publisher – Fancy Pencil (Ballonia is a simple and captivating arcade game designed for both kids and adults alike. Guide the hero through labyrinths full of traps and dangerous, but cute monsters. Solve entertaining puzzles and sharpen your dodging skills in order to save the helpless, shipwrecked passengers.) runs on iPhone & iPad. BUY NOW 

 
The Golden Years: Way Out West – Price : $0.99 – Publisher –

Alaware Entertainment

 (Tame the Wild West in The Golden Years, an exciting city building sim! Raise frontier towns out of rock and dirt and turn them into glorious metropolises! Gather resources and gold, build accommodation and production facilities and bring your empire to the peak of success! As you make your way through the hardship of the Wild West, help a local woman overcome the sleazy maneuvers of a greedy old rip and save her family from destitution. With stunning visuals that bring the Wild West to dazzling life, and an epic story, The Golden Years: Way Out West will bring hours of excitement and fun to the whole family!) runs on iPhone & iPad.

BUY NOW

 

Dragon Island Blue – Price : $0.99 – Publisher – NTT Resonant (Ever wanted to build an army of monsters? Dragon Island brings monster collection to a whole new level. Your journey begins when you find a dragon egg on the hills near your village. Dragons were previously thought to be extinct. You and your dragon must discover why dragons, gone for so many years, have suddenly returned to the world! ) runs on iPhone & iPad. BUY NOW 
For The Millionaires – All games over $0.99
 

MasterAbbott's over 99c Pick Of The Week!

Bastion – Price : $5.49  – Publisher – Warner Bros (Bastion for iPad features all the highly acclaimed artwork, music, and narration that Bastion is known for, along with intuitive touch controls. Explore more than 40 lush hand-painted environments as you discover the secrets of the Calamity, a surreal catastrophe that shattered the world to pieces. Wield a huge arsenal of upgradeable weapons and battle savage beasts adapted to their new habitat. Finish the main story to unlock New Game Plus mode and continue your journey!) runs on iPhone & iPad. BUY NOW

The World Ends With You: Solo Remix for iPad – Price : $20.99  – Publisher – Square Enix (Welcome to Shibuya, a mishmash of attitudes and styles in the heart of Tokyo. A boy named Neku wakes up in a crowded intersection, alone and unaware of how he got there. Then, he receives a weird text: "Clear this mission…or face erasure." With that, Neku is thrust into a life-or-death Game that sends him scrambling down streets paved with one riddle after another… What is the Reaper's Game? Why is Neku a Player, and what is he playing for? Will the Game really end if he survives all 7 days? Another mystery is always around the corner.) runs on iPhone & iPad. BUY NOW

 
McPixel – Price : $1.99 – Publisher –

Sos

 (McPixel is a save-the-day guy that you guide through 100 short challenges in an oldschool point'n'click fashion. The goal in each challenge is to prevent stuff from blowing up using available tools! You have only 20 seconds to save the day! Think quick!

) runs on iPad & iPhone.

BUY NOW

 
The Secret of Hildegards HD – Price : $1.99 – Publisher –

FishSticks Games

 (Use the power of a clandestine organization to stop evil in "The Secret of Hildegards", a shadowy seek-and-find challenge. Abigail's father, leader of a secret order, disappeared leaving only a message resulting in more questions than answers. She travels to the family estate, headquarters of the order, and learns of a betrayal, one putting her and the rest of the world in jeopardy. As the one now entrusted with the order's secrets, she must figure out a way to dispatch this evil threatening humanity. ) runs iPad & iPhone. BUY NOW
 

Qwak HD – Price : $1.99  – Publisher – Mr Qwak Limited (A classic Amiga platform game, highly prized for it's fast-paced, addictive game-play. Now re-envisioned for your iPad, by the games' original author. Are you ready for insanely addictive game-play, that will push your skills to the limit?… ) runs on iPhone & iPad. BUY NOW

 

Music Master Choppin: Rock – Price : $5.49  – Publisher – BULKYPIX. (Music Master Chopin Rock is the first music game with rock versions of classical masterpieces. Play the greatest compositions of Frédéric Chopin in new suprising arrangements! Astonishing music. Well-balanced, intuitive gameplay, Over 150 curiosities about one of the greatest classical musicians of all time! 50 achievements to unlock, 3 and more difficulty levels OpenFeint integration – show your friends that you are a real music master!) runs on iPhone & iPad. BUY NOW

 

Blast-A-Way – Price : $5.49  – Publisher – Illusion Labs. (This time they have really done it! The little Boxies climbed up the Sticky Bomb Monument and it fell over. When the bomb hit the ground it went KABLAAM! and blasted all the little Boxies far far away. Help three robot heroes save the lost Boxies throughout the many levels made of wood, metal, fabric, stone and plastic. To accomplish this honourable mission they have to use bombs, teleporters, rebuilders, colorizers, portals, color gates and more, found in and around the levels.) runs on iPhone & iPad. BUY NOW

 
Splice : Tree Of Life – Price : $4.49 – Publisher –

Cipher Prime Studios

 (Splice is an experimental and artistic puzzler. Immerse yourself in its microbial world and start splicing! Every level ("strand") consists of a number of cells that you will need to rearrange into a target structure in several moves ("splices"). Exploration and experimentation are key in determining how the curious little cells react to each other. Predict the sequence of splices you'll have to make in order to successfully arrange each strand. Re-sequence, mutate, and splice your way through this unique puzzle experience, and you'll exercise your ability to visualize sequential series of shapes over time. Solve your way to the final strands and you'll be left with a heady sense of mental accomplishment!

) runs on iPhone & iPad.

BUY NOW
There you have it folks, these games should keep you busy for quite some time, well till next week at least. I'll be back next week for another dose of iOS goodness, in the meantime if anyone would also like to suggest their own suggestions, please feel free to share them in the comments section below or in the iOS forum section on the site here.
Remember kids, Play Hard Or Don't Play At All!