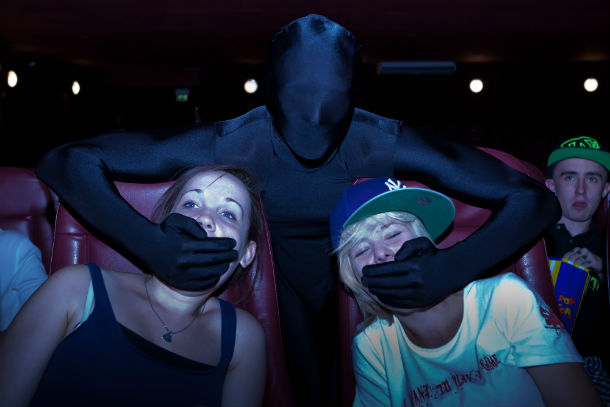 In what could turn out to be either a genius move, or a disaster, one London cinema is deploying a "Ninja Task Force" for the purpose of ceasing obnoxious behaviour by inconsiderate movie-goers. It is the result of an official collaboration between the Prince Charles Cinema, located in Leicester Square, and the company Morphsuits.
These "ninjas" are clad in plain black morphsuits and stand in the darkest corners of each theatre room waiting to pounce on loud, distracting members of the cinema audience. Morphsuits co-founder Gregor Lawson explains the inspiration for implementing this new scheme: "I'm a big fan of going to the cinema, but there's an unspoken code of conduct when you're watching a movie that some people just don't understand." And what better way of teaching those code-breakers a lesson than by having a strange fetish monster come up and silence them!?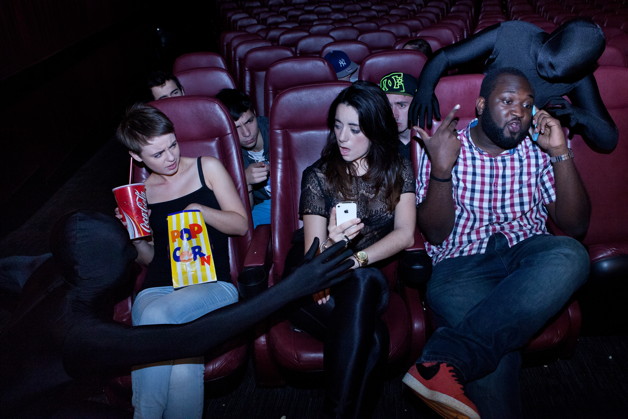 Effective? 
This may sound ridiculous to many, but according to one movie-goer who was shut down by these ninjas, the experience was "terrifying". Although I am not so sure that when, or if, this scheme expands nationwide in England everyone will take as kindly to the confrontation. And considering that these ninjas are volunteers and get to view the movie that's playing in their theatre for free, I can see many taking the job just for that free ticket and not caring about their actual responsibilities.
What do you guys think? Will this prove a success in the long run?
Source: Digital Spy