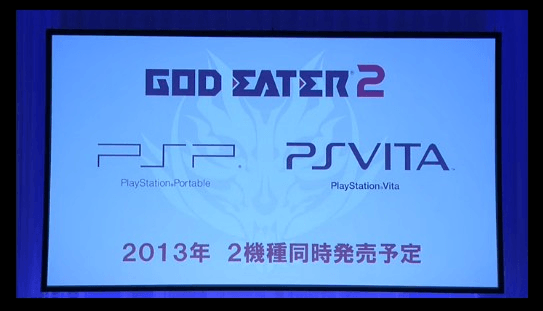 While there have been a few rumors circulating about a possible sequel to 2011's God Eater, it never was officially confirmed by Namco Bandai. Well today during Sony's Tokyo Game Show conference the company announced that they are planning on releasing God Eater 2 on the PlayStation Vita as well as the PSP in 2013.
The company talked a little bit about God Eater 2, stating that the game will be faster, feature more strategic battles and larger monsters to take on than the first game in the series. The title will feature the same content no matter which version is purchased, though the Vita version will have superior graphics. It is worth noting that God Eater Burst 1 was released in North America and Europe in 2011 so there is a good chance we will see God Eater 2 in the West as well.
Update: An "Introduction" trailer has been released by Namco Bandai and can be seen below.