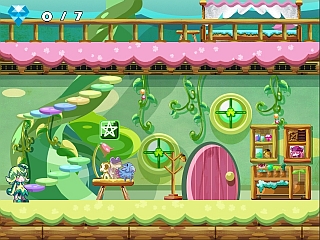 Coming to you September 14 is the latest platformer published by Nyu Media called Eyri's Action. From the looks of the game, it is going to be quite the fun addition to any players library. The game was deverloped by Xtal Sword and was inspired by classics such as Super Mario Bros. and I Want To Be The Guy (I hope they aren't referring to the game that was visually inspired by Megaman, not so much from a visual standpoint, but from a gameplay one).
The story itself seems like it's going to be pretty humourous, considering that this is the story blurb that we were given –
One fine day, Eryi went to eat the melon that she had been SO looking forward to… but it was nowhere to be found! Then she noticed a note on the table. She picked it up and read: "Your melon looked delicious, so I took it. From Farta X"
Fuming with rage, Eryi set out from her house to get her melon back from Farta.
The games features are as follows –
Features
+ 12 action-packed stages & boss fights!
+ Adorably charming world & characters!
+ Fiendishly cunning traps!
+ It's okay to fail! Autosave has your back!
+ FUN! You'll die a lot, but you WILL go back for more!
+ 32 achievements (Steam version only)
Be sure to check out the title and the rest of the Nyu Media second wave here. Also, make sure you support the Nyu Media on the Steam Spotlight by approving their titles, starting with this one. The game launches on September 14th on PC, available here.