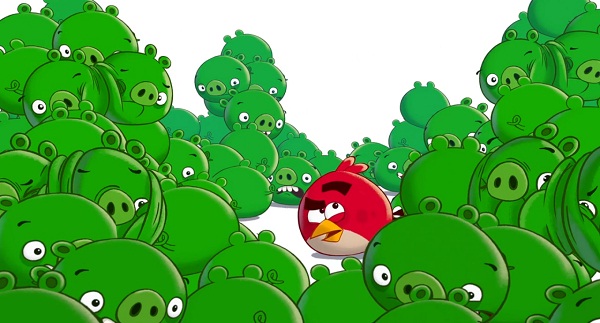 One flimsy structure at a time, those Angry Birds have done a commendable job of tackling the green pig menace. Their arsenal includes just about every platform known to gamers. They work all year round – in fact, they seem to work harder around key seasons and holidays. And they've even tracked the damn things into outer space! That's dedication.
Do the math: with over a billion downloads worldwide, that equates to a lot of squashed pigs. Unfortunately, it looks like they've yet to put much of a dent in the pigs' resistance. Rovio have teased a spinoff game, titled Bad Piggies, due for release on September 27, for iOS, Android and Mac, with PC and Windows Phone versions to follow shortly after.
There's not much info available yet, but according to Fast Company, who toured the studio and got to try the game out, Bad Piggies does away with much of the Angry Birds formula.
"The swine are stranded on a desert island and have to build vehicles and contraptions to make their way to the delicious eggs that they can't seem to get enough of. Though there is a three-star mechanic at work, there are no birds in sight, and the pigs are bouncy, jovial, and downright likable–a far cry from the snorting, antagonizing characters from the Angry Birds installments."
Rovio mentioned years ago that an Angry Birds sequel-of-sorts might feature the pigs as the playable characters, an idea that I was keen on straight away. I'll be watching this like a hawk.