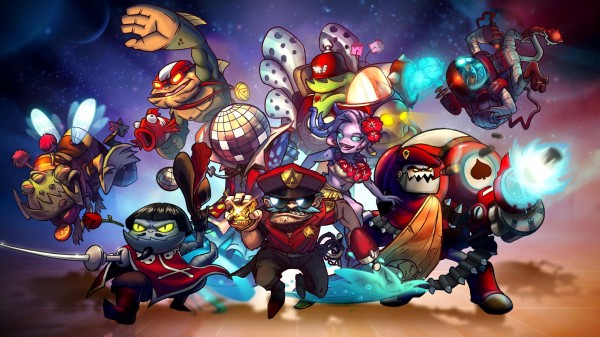 Fans of the Ronimo Games MOBA Awesomenauts should be interested to hear that Patch 1.5 has come out for the game and part of it is the inclusion of DLC Skins for the characters.  Featuring a new skin for each of the characters players can purchase them in a multitude of ways depending on how many and which of the new skins each player is interested in.
At its simplest, players can download 1 character skin for $2.49 (€2,49 or £1,74) if they are looking to get a new look for their one favorite, but for those interested in multiple there are a variety of bundles combining a few together.  The bundles available  for $5.99 (€5,99 or £4,49) each are:
Green and Mean – with skins for Froggy G (Grandmaster Splash), Gnaw (Bumble Gnaw) and Derpl Zork (Hotrod Derpl)
Past from the Past – with skins for Voltar (Disco Voltar), Leon Chameleon (Mousquetiere Leon) and Yuri (Kosmonaut Yuri)
Tropical Thunder – with skins for Lonestar (Officer Lonestar), Coco (Coco Hawaii) and Clunk (Replaceable Clunk)
Additionally, players interested in all the skins can download the Costume Party bundle for $14.99 (€14,99 or £11,99) that will grant the player all nine.
Not sure if the prices are worth it from the picture up top?  Players can check out the full gallery just below to see all the different skins better, or better yet check out the video embedded below that shows all the skins in action.