Riot Games has just released new information about the Voidreaver – Kha'Zix. The League of Legends is home to many combatants, yet none can literally evolve like this new challenger. Kha'Zix is an exploiter of max proportions dealing massive amounts of damage in a quite surprising manner. This little assassin went to the market, and no one was able to run home…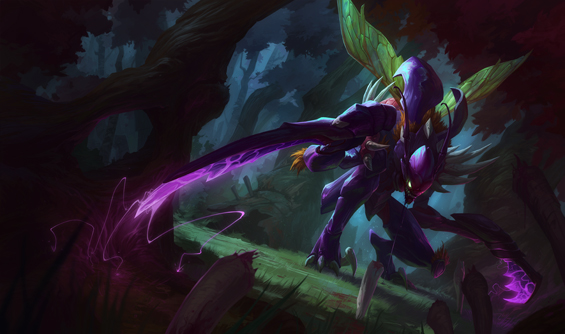 Abilities
Unseen Threat (Passive): When Kha'Zix is not visible to the enemy team, he gains Unseen Threat, causing his next basic attack against an enemy champion to deal bonus magic damage and slow.
Void Assault: Each rank of Void Assault allows Kha'Zix to evolve one of his active abilities, granting it an additional effect. Upon activation, Kha'Zix enters stealth and gains Unseen Threat, increasing Movement Speed. Kha'zix can cast Void Assault again for a short time after activation.

– EVOLUTION –

Evolving active camouflage allows Kha'Zix to cast Void Assault three times over the course of its duration and reduces any damage he sustains while in stealth.

Related Articles for this post below: