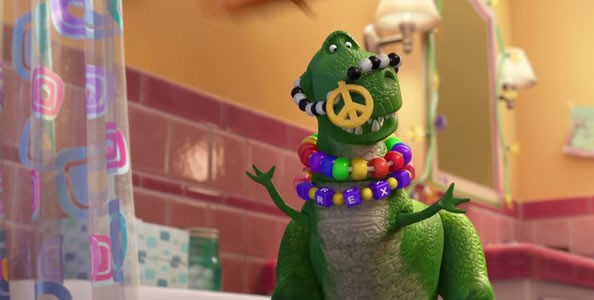 Partysaurus Rex is the upcoming third episode in the Toy Story Toons series following Hawaiian Vacation (released with the theatrical release of Cars 2) and Small Fry (attached to the theatrical release of The Muppets) episodes. Pixar has recently released the first sneak peek clip online featuring Rex getting the party started in a bathtub with some of his new buddies at Bonnie's house. The new episode features new toys such as the whale-shaped tap sleeve and a yellow rubber duck with a funny accent.
Rex (voiced by Wallace Shawn), who gets brought for bath time, is the only toy with limbs capable of getting the party going for the dried-out toys which leads to a soap bubble rave, combined with glow-in-the-dark toys, happily enjoying themselves to Grammy-nominated electronica musician BT's dance music. The new short is being directed by Mark Walsh and produced at Pixar Canada in Vancouver. It will be shown in the theatrical 3D Finding Nemo re-release in September 14th this year. Two more shorts are currently being developed with one of them planned for release in Spring 2013 as well as two TV specials expected to come out in October 2013 and Spring 2014.
Be sure to check out the preview embedded below.