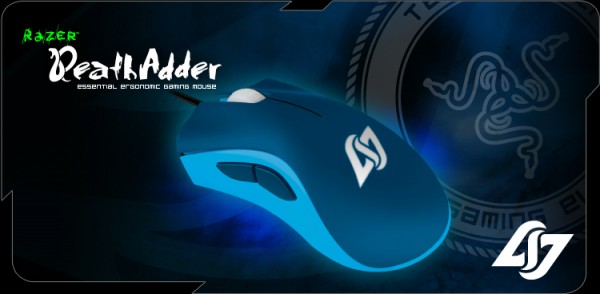 At Gamescom in Germany, Razer unveiled a new Goliathus mousepad and redesigned Deathadder mouse based on the Counter Logic Gaming clan. The redesigned mouse and mousepad carry the teams colours and on the mousepad is also the teams name and logo.
On the mousepad and mouse, representatives from the team had this to say –
"We're happy to give back to a team that gives so much to the community. Not only is it fun to watch 'HotshotGG' and the rest of his team tear up the MOBA tournaments on live-stream, they also share their strategies and encourage discussions on forums for the betterment of gamers everywhere," said Robert 'RazerGuy' Krakoff, president of Razer USA. "Both the players and fans will get to wear the CLG banner on their peripherals with pride."

"This is the stuff dreams are made of," said George "HotshotGG" Georgallidis, pro-gamer, Counter Logic Gaming. "To have CLG win Razer's Team of the Year award and have our logo featured on their products is a milestone honor and a truly surreal experience. I'd like to thank Razer and all of our fans for making this a reality. You are what enables and drives us to play harder and achieve more so that we may rightly receive your overwhelming continued support!"
Be sure to check out the products official website to purchase and for more info.