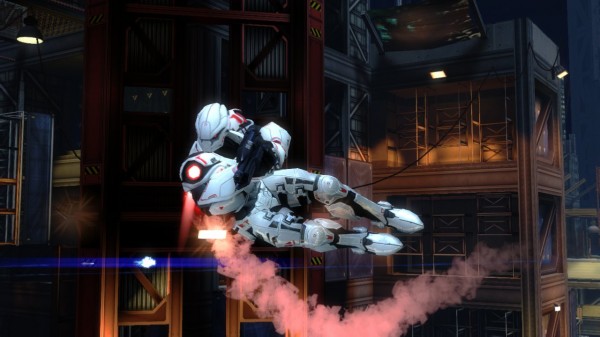 Hailing from the developers that have made Drawn to Life and Scribblenauts, Hybrid is a new innovative entry into the third-person shooter genre being released as part of this year's Summer of Arcade.  At 1200 MS points players can join in on 3 man team battles that go from the ground to the air in a twist on the movement style associated with third-person games.  With flight-based cover-to-cover players can move almost anywhere to stay in the action, from on the ground to stationed on the ceiling raining bullets down.
Designed to run at 60 frames per second, the fast paced action revolves around 6 game modes in 10 different maps, as well as a whole heap of things to customize in terms of character looks, weapons, and abilities.  Set on Earth in 2032, players choose to side with the human Paladins or an alien species known as Variant, which sets the stage for the massive online component where every battle brings one side closer to victory.
Players can check out the newest screenshots in the gallery below and interested players can download Hybrid on the XBLA or on the Xbox website HERE.
UPDATE: Hybrid was having some issues with connecting and has been temporarily pulled, hopefully it will be available again soon.