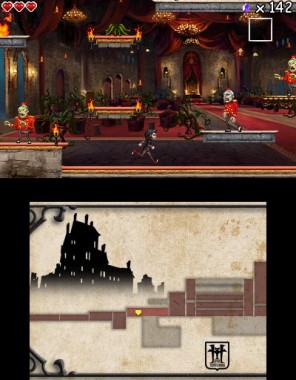 When you hear about a movie getting the video game treatment, a sigh is usually the first response that is made. When WayForward happen to be doing the project, glee replaces the doubt and a solid experience is almost always a guarantee. Yes folks, the all mighty WayForward are preparing to launch their adaptation of Hotel Transylvania for the 3DS and DS soon with the help of GameMill, and this little romp is looking quite temping thus far.
Here is a brief synopsis on what players can expect:

Welcome to Hotel Transylvania, Dracula's lavish five-stake resort, where monsters and their families can live it up, free to be the monsters they are — without humans to bother them. On one special weekend, Dracula has invited some of his best friends — Frankenstein and his wife, the Mummy, the Invisible Man, the Werewolf family, and more — to celebrate his beloved daughter Mavis's 118th birthday. For Drac, catering to all of these legendary monsters is no problem — but everything could change for the overprotective dad when one ordinary guy stumbles on the hotel and takes a shine to Mavis.
Featuring a wide variety of locations, puzzles, and boss battles galore, the game creates an imaginative and fun way to interact with the movie characters.
Yeah, there is always doubt and cynicism when it comes to any licensed title, but my hype has began for Hotel Transylvania, as it looks to already have all the tools to become yet another gem from the makers of Shantae, Aliens: Infestation, and A Boy & His Blob. Hotel Transylvania is due out September 28th.