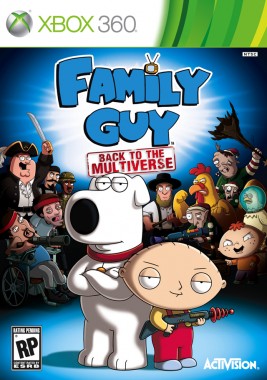 After Amazon ruined the surprise with a pre-announcement listing for the game, we haven't heard a lot regarding Back to the Multiverse. But several screenshots were released during Gamescom this week, finally giving us a look at the latest Family Guy adventure.
The game is based on the similarly-named episode, Road to the Multiverse, in which Stewie and Brian get lost between parallel universes. It will extend the storyline of that episode, and turn it into a third-person shooter/platformer. It's beginning to sound a lot like the 2006 Family Guy game, which was… all right, I guess.
The screenshots below all but confirm the similarities. It's pretty old hat to turn a popular IP into a third-person platformer/shooter game, but hey, it might be good for a laugh.We'll hold our judgement for after we get to play it.
Family Guy: Back to the Multiverse is slated for release on September 25th in the US, and probably around the same time for Europe and Australia.