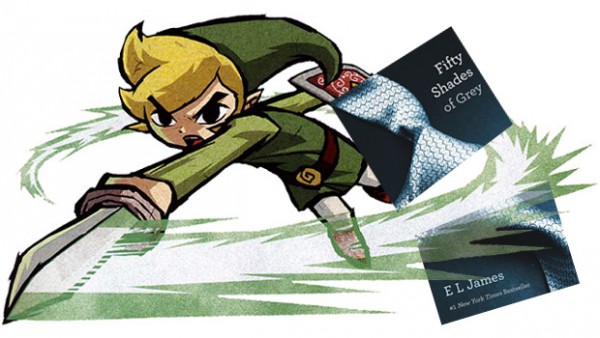 Another week, another dollar, another silly goose in the gaming industry. This week's silly goose is none other than the director of Assassin's Creed III who claims game journalists (such as myself) are racist. Odd, I don't recall being racist… That's not all though, this week bore plenty of other great news, such as the victory of Zelda over the horrid trash known as 50 Shades of Gray. Oh and what you had all been waiting for, the teaser trailer for Farming Simulator 2013 has finally been released! All this good stuff and more in the week that was 13th-19th of August, 2012.
Here what made headlines this week:
Gaming News:
– Farming Simulator 2013 Teaser Trailer
– AR Campaign for Darksiders II
– Halo 4 specializations revealed and detailed
– LEGO: Lord of the Rings to feature 85 characters
– Halo 4 limited edition revealed
– Assassin's Creed III Director claims that Game Journalists are Racist
– Crysis 3 Multiplayer detailed
– Hyrule Historia sells more than 50 Shades of Gray
Pop Culture News:
– Transporter TV Series Trailer Released
– John Barrowman joins the cast of CW's 'Arrow'
– Director Tony Scott Commits Suicide
Anime/Manga News:
– WIN – Pokemon: Black and White Combo Pack
– New JoJo's Bizarre Adventure Anime Artwork
– Hanabee Manifest 2012 Acquisitions
– Madman Manifest 2012 Acquisitions
Tech/Gadget News:
– Razer announces Kraken line of Headphones
– Razer DeathStalker Ultimate Announced
– ASTRO A50 launch in Australia and New Zealand
Reviews:
– Shangri-La Part 1 Review
– Shangri-La Part 2 Review
– D.Gray Man Season 1 Review
– Wizorb Review
– Dust: An Elysian Tail Review
– Super Action Hero Review
– TERA Review
– New Super Mario Bros. 2 Review
– Persona 4: Arena Review
– Rugby Challenge Vita Review
Podcasts/Videocasts:
– Anime Say! Episode 16 – Best Anime Fights
See you next week for the CC Weekly Recap.