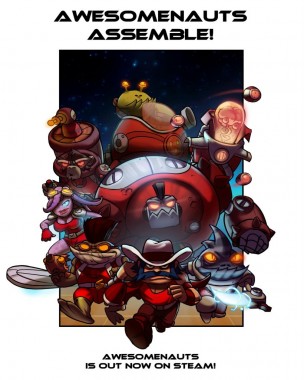 Are you a fan of the multiplayer intense Awesomenauts? Do you also own a PC? Then you will be pleased to know that you can now buy the Awesomenauts videogame on the PC platform.
After a long period of not appearing on the PC platform, the game has finally arrived on the PC through the Steam distribution service. There are also plans to release a Mac compatible version of the game in the future.
Gamers can pick the game up for $9.99 / £6.99 / €9.99. The game also comes with some extra goodies for the videogame Team Fortress 2. That's right, if you pick up Awesomenauts before September 5, you get a hat, a medal and a jetpack.
One last thing, there is also the availability of the games soundtrack on the Steam service. Players should definitely look at picking that up in conjunction with the game.
Check out the trailer embedded below for more info.