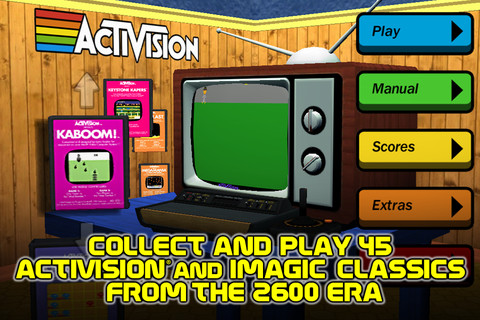 Earlier today Activision released a new app for the iOS market which will enable users to access to some of their more classic titles in their libraries.  In this anthology, players are able to collect 45 different Activision games from their classic Atari 2600 library.
The title looks like it'll be pushing out classics like Kaboom!, Pit Fall, River Raid and more. Check out a complete reproduction of the features below –
FEATURES:
• Get the action classic KABOOM! for FREE
• Access to 45 classic Activision and Imagic games including PITFALL, RIVER RAID, THE ACTIVISION® DECATHLON, BARNSTORMING™, STAMPEDE™, PITFALL II, ENDURO™, DEMON ATTACK, and many more!
• Choose from multiple control schemes to play as you like to play
• Enjoy full Game Center integration including leaderboards and achievements!
• Earn digital versions of the renowned Activision game patches offered in the 1980's
• Features original cartridge and box art, original game manuals, tips and strategies from the original game designers, and more
• In-app game purchases unlock across devices associated with the player's account
• Taunt your friends by showing off your high scores on Facebook
• Buy once, play any time!
This is definitely a collection dedicated to fans of retro gaming and to those who grew up playing with these titles. Be sure to pick this up on the App store here.