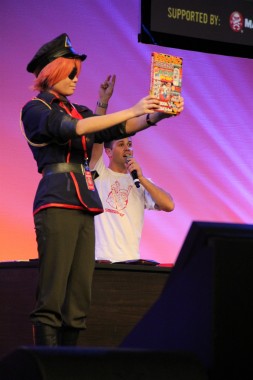 SMASH! is best known for its cosplay competition and guest stars, but slotted in between those events was a charity auction in aid of the Fred Hollows Foundation. A handful of collectible items contributed by guests and vendors managed to make a significant sum for the charity, which works with Indigenous Australians and people in developing countries and over the years has helped restore the sight of more than 1 million people worldwide.
The rules were simple: no registration – just yell! In a packed out auditorium ready and waiting for the soon to follow Cosplay Competition, extreme decibel levels, jumping, waving and yelling were often the order of the day.
First up came a series of souvenirs straight from Japan courtesy of guest Sakura Tange. All went for reasonable amounts, giving the auction a solid start – there were bigger fish to fry later, no matter how cute the cat eye mask was.
A couple of signed editions of Evangelion brought the bidding into triple digits, with a particular attendee flashing the cash to walk away with a significant haul of goodies – congratulations to 'the man in the black shirt'. Last but by far least, a one of a kind art book with contributions from artists from throughout Australia and signed by all three international guests.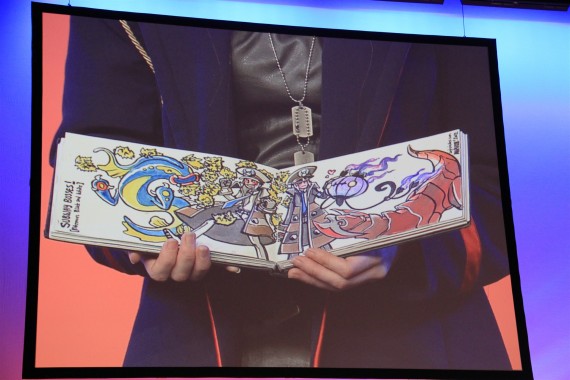 There were some beautiful pieces of artwork showcased here, and the bidding war that followed reflected the quality on offer. The going price quickly leapt up into the hundreds of dollars, with the crowd roaring along as the figure just kept soaring.
As the pages kept turning and more unique pieces were revealed the bids just kept coming.
Finally, one extremely flush fan walked away with his prize, handing over a cool four figure sum for the privilege of owning this one of a kind piece.
Congratulations to all the winners and thanks to SMASH! for supporting such a great cause. You can find out more about the work of the Fred Hollows Foundation at www.hollows.org
 Be sure to check out the official SMASH! website and our SMASH! 2012 section here on Capsule.