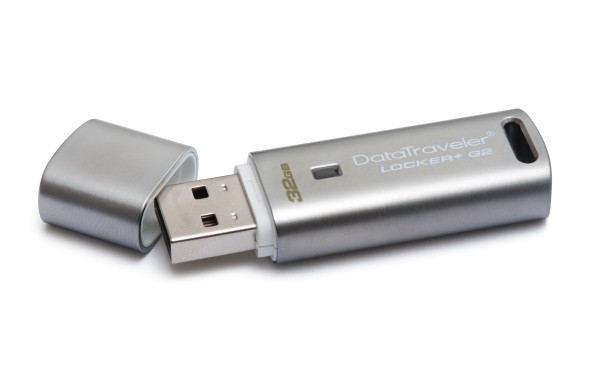 PC Hardware manufacturer Kingston have announced their second generation Bitlocker USB device for the Australian market. The device is essentially a USB Storage device that comes in many different variant, such as 4GB, 8GB, 16GB and 32GB. The device is called a DataTraveler Locker+ G2 and is going to have the capability to be used interchangeably between popular operating systems Windows and OSX.
The device is secured by having users place a password on the device upon it's initial use and it also allows users to add up to 20 additional users and passwords into its built in database. No external software is required to run the device or access its files.
Unfortunately I haven't been told much on the devices security algorithms or any other kind of details outside of basic technical details, I would really like to know how encrypted my data actually is. Here are the technical specs –
Kingston DataTraveler Locker+ G2 Features and Specifications:
·        Hardware Encryption: The best in personal security to keep your data safe
·        Superior Password Protection: User sets a password to prevent unauthorised access
·        Versatile: Works interchangeably between Mac OS X and Windows systems
·        Secure: Drive locks down and reformats after 10 invalid login attempts
·        Easy to Use: No application installation required
·        Password Manager: Access and store user names and passwords for up to 20 accounts
·        Stylish: Durable metal casing with built-in key loop
·        Customisable1: Co-Logo program available
·        Supports: Windows 7, Vista, XP & Mac OS X
·        Guaranteed: Five-year warranty with free technical support
·        Capacities2: 4GB, 8GB, 16GB, 32GB
·        Speed3: 10MB/s read and 5MB/s write
·        Compatibility: Designed to USB 2.0 specifications
·        No Admin Rights Required
·        Minimum System Requirements:
–        USB 2.0 compliant and 3.0 compatible
–        Two (2) free consecutive drive letters required for use
·        Dimensions: 2.28″ x 0.73″ x 0.38″ (58.00mm x 18.6mm x 9.75mm)
·        Operating Temperature: 32°F to 140°F (0°C to 60°C)
·        Storage Temperature: -4°F to 185°F (-20°C to 85°C)
Be sure to check out the official website for more info.