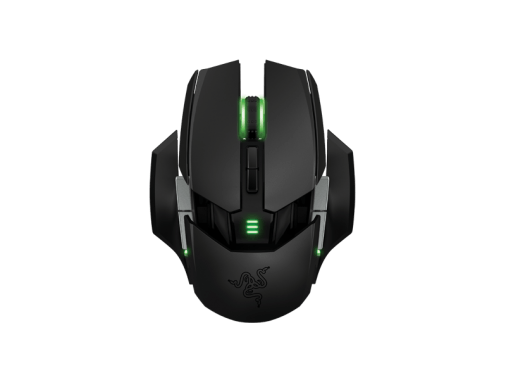 The Razer Ouroboros is a mouse that allows users to fully customise the look and feel of the device to match their own unique playing styles. The wireless mouse is the latest in the line of mouses from Razer and as such, carries their high quality design and precision movements.
The Razer Ouroboros is fully customisable in that gamers will be able to change the mouses length, width and even butt-lift. This allows for each gamers unique hand and method of holding the mouse. For instance, some people lay their hands on the mouse, whilst others prefer to claw their mouse. The Ouroboros accounts for both methods and is therefore a more comfortable mouse.
It is also a wireless mouse, meaning that players wont have to worry about cords and cables clogging up their desk space. With wireless technology, it's always a worry that the device will run out of power in the middle of use. Fortunately, the mouse boasts 12 hours of continuous use before needing to be docked and recharged.
On the mouse, Razer had this to say –
"Designed for excellence and total ownage, the Razer Ouroboros was intended to be wielded by all serious gamers looking to win any FPS, RTS or RPG with custom-made dominance," said Robert "RazerGuy" Krakoff, president of Razer USA. "We are proud to introduce it as Razer's first gaming mouse that features optimized, customizable, ambidextrous ergonomics that better fit the curvature of any and every hand size and personal grip style by delivering ultimate comfort, control, power and built-in intelligence to ascend to gaming immortality."
The Ouroboros is an ambidextrous mouse, meaning that it can be comfortably controlled with both the left and the right hand. This is important for many gamers who have had to adapt to mouses that have not been designed with them in mind.
You'll be able to get the Ouroboros for $129.99 USD in Quarter 4 this year. Be sure to check out the official website for more info.