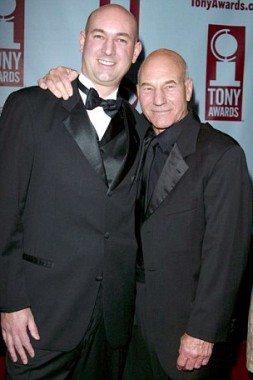 One of the most eminent television and movie actors involved in massively popular science fiction franchises, as well as a comic book franchise, is Sir Patrick Stewart. Not only was Sir Patrick Stewart in the panel, but he was accompanied by his son Daniel Stewart. This was one of the few panels that had two people doing the panel at the same time, and they had a fantastic chemistry going between them on the stage, which is no surprise since they are father and son.
Patrick Stewart was asked about the voicework he'd done for Seth McFarlane on Family Guy, American Dad and the new movie Ted, given that it was so different from his usual work and very far from his classical work he's done a lot of. Which, it turns out, is the reason he chose to do such roles.
One of the big upsides of having a father-son team on stage was that they talked about some of their family stories, such as how they used to play board games with the family and Patrick Stewart would be the only one allowed to read the rules, and would make them up as they went, so he'd never really let the children win. Which led to Daniel Stewart's somewhat skeptical and hilariously insulting personality.
In addition to this, Sir Patrick Stewart was gracious enough to offer a story about how his brother had trained his six year old niece before her first games day and how, when she stopped and waited for the rest of the field to catch up, his brother had been raging on the side lines. And that was why he had grown up to be ultimately competitive. It was actually amazing to hear such stories like this from Sir Patrick Stewart, and I'm sure the rest of the audience felt the same. He actually had the most awesome and warm personality that was so different from his characters that he had played. At one point a small boy in a Hulk suit asked him a question and he was absolutely lovely towards him.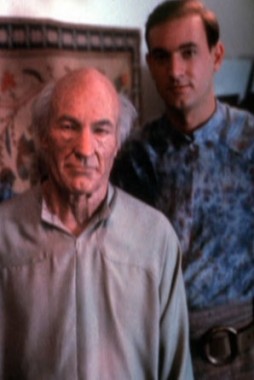 Sir Patrick Stewart had actually never seen the original Star Trek series, although his son Daniel had, and he had to get briefed on what the show was about. But it clearly became a huge part of his life after that, and he cited the saddest part of his time on Star Trek, as a character and an actor, was when he said goodbye to Commander Riker when he was promoted to Captain and given his own ship. The one line where he says "No Number 1, the honour is all mine" was apparently a very difficult line to deliver because it carried a lot of weight, not only for the character, but for the actors.
Overall, it was one of the more enjoyable panels, because of the chemistry between the two on stage. Almost all the questions were solely directed towards Sir Patrick Stewart, but Daniel Stewart took it beautifully and managed to have just as much of a stage presence and provide just as many laughs with his personality and wit.
Check out the rest of our Oz Comic Con coverage on the rest of the site, including impressions, more panels, and interviews!