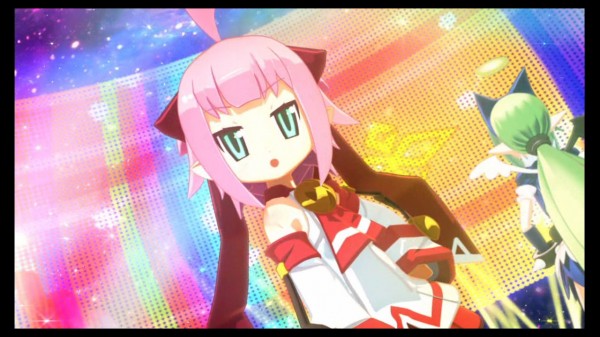 When you get a game like Compile Heart's Mugen Souls coming to North America, the ESRB has quite a large job on their hands. Surprisingly, NIS America's upcoming release managed to escape the ESRB with only a T for Teen rating, though this rating came with a rather large explanation.
See what the ESRB had to say about the game below:
In this role-playing game, players control Chou-Chou, an "undisputed god" attempting to forcibly take over her universe. As players explore the solar system, they can engage in turn-based combat with human-like characters and fantasy creatures. Players choose weapon strikes and special attacks from a menu screen (e.g., Rainbow Tower, Two-Part Cut); damage is indicated by slashing sounds, light effects, and a loss of hit points.

A number of cutscenes depict female characters whose bodies are partially obscured by hot-spring mist and soap suds. During one such scene, a nearby male character suffers a nosebleed, resulting in exaggerated blood effects (e.g., "There it goes! The Red Ryuto Geyser!").

Players can also access gallery images depicting women in revealing outfits that expose large amounts of cleavage/buttocks. The dialogue and on-screen text include several instances of sexual innuendo/references (e.g., "What if he wrote about his weird habits or sexual fantasies or something," "CC Sadist," "I'm just a perverted girl who likes verbal abuse. Please scold me," and "Marina, lemme grab your boobies."). The words "sh*t," "a*s," and "b*tch" also appear in dialogue.
Related Articles for this post below: