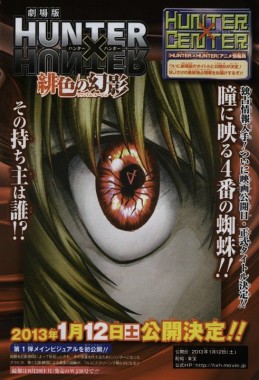 In the Hunter Center feature of Weekly Shonen Jump magazine, a poster for the recently revealed Hunter x Hunter movie, Hunter x Hunter: The Scarlet Phantom, has made it's way online.
The poster for Hunter x Hunter: The Scarlet Phantom can be seen to the right (click for larger version). The movie is said to focus on Kurapika, who is the only living member of the Kurta Clan after their massacre at the hands of the Phantom Troupe. The film is being written by Yoshihiro Togashi (the series creator) and is said to be canon.
The Scarlet Phantom poster features Kurapika with his scarlet eye focused on the tattoo of Troupe member #4, Hisoka (or previous #4 member). Be sure to let us know what you think in the comments section.