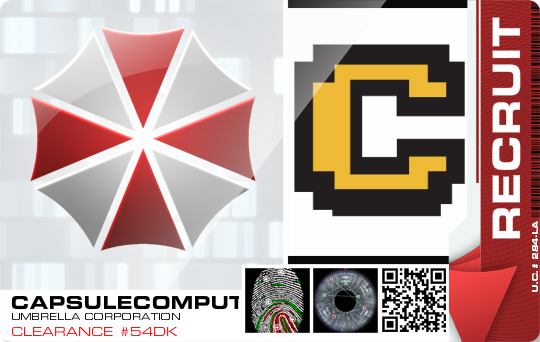 Capcom has shared out another great and fun addition to their Umbrella Corporation website. If you're a fan of the Resident Evil series you will certainly want to create your very own Umbrella Corporation Recruitment Badge, which once you've created can be download to your PC, printed out and made into a fake ID which you can try and trick your friends with, you can share it on Facebook and also Tweet it out to all your followers.
As you can see Capsule Computers has also signed up as an Umbrella Recruit.  Our recruitment process was tough, we had to get finger and toe printed, eye scanned and also had to run 10 miles on a tread mill for our physical evaluation while playing Resident Evil Revelations on the 3DS BLINDFOLDED!  We can proudly say that we passed with flying colors and now are part of the Umbrella Corporation. (Clearance #54DK – Janitor department cleaning the toilets)
If you want your very own Umbrella badge follow the link here, it wont be anywhere near as hard as what we had to do to get ours so get going and make yours before the Nemesis gets you!