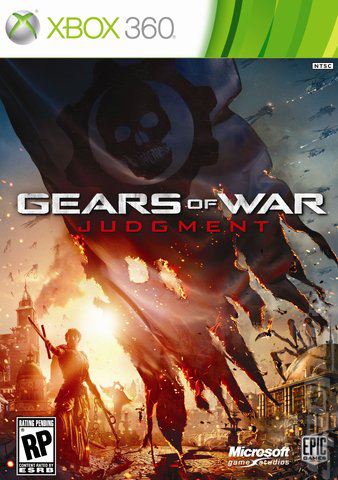 As you might of read earlier Gears Of War Judgement will be making it's way back to the Xbox 360 on the 19th of March 2013.  This time around you'll be playing as both Cole Train and Damon Baird making your way though the events that happened prior to the original Gears Of War.
To add to the release date, the official Gears Of War Facebook page have shared what we believe to be the front box art image for Gear Of War Judgement.  The Lady Justice statue standing and pointing to something or someone as the ground opens up right before her, while in the background a Corpser is about to rip apart and destroy a building.
In the air separated by the burning COG flag you can what was and what will be with both daylight and the sun setting to the coming darkness with an air battle talking place between the Nemacyst's and COG choppers.  Certainly a lot is going in this box art with quite a lot of references of what it was like before and what it will be like after the invasion of the Locust Horde.
Let us know what you think of this box art and also if you plan on picking up Judgement when it comes out and what you're looking forward to playing and finding out the most once its released on the 19th of March next year.