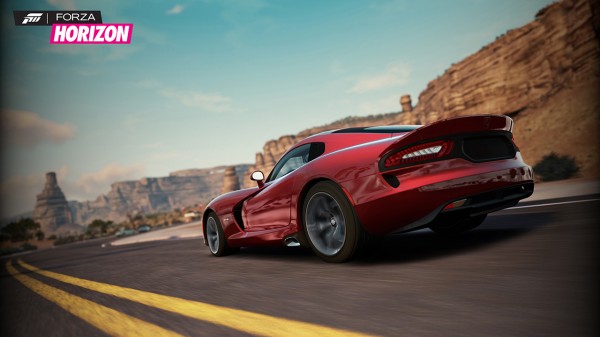 Microsoft has today revealed the details of the Forza Horizon pre-order plans and the limited edition collector's release of the game. The game itself is set for release on the 23rd of October, 2012 and will come with a variety of different bonuses for those willing to pre-order or get the limited collector's edition.
Fans of Forza who pre-order Forza Horizon will get a special Instant Incentive download code redeemable in Forza Motorsport 4 which will unlock the 2012 Dodge Challenger SRT8 392 if they pre-order at JB HI-FI or EB Games. That's not all though, there is more in store for those who pre-order or get the limited collector's edition. Microsoft outlined the bonus content in their press release:
In addition, fans who pre-order "Forza Horizon" at participating retailers will receive an additional token, while supplies last, to unlock one of the following five cars that will be instantly available when the game launches this October:

Exclusive to EB Games

2010 Ferrari 458 Italia: A new Ferrari is always cause for celebration, and you can still hear the cheers from fans of the 458. The famed Italian automaker went above and beyond the call with this gorgeous example of road-devouring art. The 458 produces 562 horsepower and has a top speed over 200 mph, giving it the kind of performance needed to master the world's greatest race tracks. 
2010 Volkswagen Golf R: Available only in Europe as a limited edition model, this could be the sportiest Golf to date. 267 horsepower from its 2.0-liter turbo make it a kick in the pants when pushed, and it can be pushed all the way up to a governor-mandated 155 mph. Twin central exhaust tips, L shaped LED taillights, and plenty of glossy black give the Golf R a look that matches its performance.

Exclusive to JB Hi-Fi

2012 Aston Martin Virage: Plush luxury meets awesome performance in the 2012 Aston Martin Virage. Comfortable enough for a long Sunday drive, yet sporting a blistering 490 horsepower V12, the Virage continues Aston Martin's legacy of creating cars that deliver prestige and performance.
2010 Nissan 370Z: The long line of Z model cars has a prestigious history and loyal following, but anyone can appreciate the beauty and power of this Japanese masterpiece. The 370Z features grippy handling and drift-worthy rear wheel drive, motivated by a 3.7-liter, V6 with more than enough juice to excite even the most die-hard of sports car enthusiasts.

 

Become an Instant VIP with the Limited Collector's Edition

Also available for pre-order today is the "Forza Horizon" Limited Collector's Edition that includes a "Forza Horizon" branded Steelbook™ containing the game disc and a"Forza Horizon" Festival Ticket that grants access to a valuable assortment of exclusive in-game content, including VIP Membership for "Forza Horizon."

 

VIP Membership opens up a new level of exciting content for "Forza Horizon" players, including an exclusive five-car VIP Pack available at launch (more details to be shared soon), special recognition in the Forza community and exclusive access to VIP-only in-game events.

 

The "Forza Horizon" Festival Ticket also unlocks additional digital content for "Forza Horizon," accessible through Xbox LIVE, including:

 

Five-car Launch Day Add-on Pack (more details to be shared soon)

Five Exclusive "Forza Horizon" Limited Collector Edition Car Pack liveries

"Forza Horizon" Accelerator Token Pack3

 

1 Check the classification closer to release.

2 "Forza Motorsport 4" game and Xbox LIVE account required to activate.

3 "Forza Horizon" Accelerator tokens will allow you to speed up your career with instant access to exotic cars, in-game popularity spikes, fast passes and instant map unlocks.
So there you have it, the details for the pre-order bonuses for Forza Horizon as well as details of the limited collector's edition of the game. Will you be pre-ordering or picking up the collector's edition? Let us know in the comments section below.