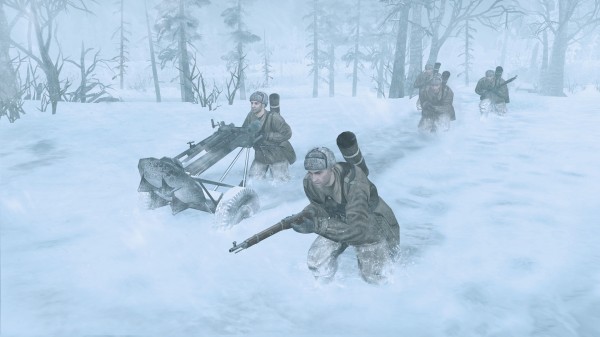 Company Of Heroes 2 is the latest and upcoming strategy game from developer Relic Entertainment and is also a sequel to the highly regarded Company of Heroes that was released in 2006. The game recreates the second World War from the east-European war front.
So basically the new Cold-Tech engine is a way of simulating the effects of the cold on various units in the game. For instance, infantry units can now feel the cold and some tanks can fall through ice. I have reproduced the relevant sections of the press release detailing the most important aspects of the engine below. –
ColdTech includes an 'extreme cold' mechanic which accurately encapsulates the Soviet winter which reached extremes of -40 degrees F in 1941. At those temperatures human skin will freeze in a matter of minutes, something that is portrayed in the game. On winter maps, Infantry units exposed to the bitter cold will gradually freeze to death unless the player keeps them warm by building fires and garrisoning them in buildings. Dynamic blizzards will increase the effects of extreme cold making it even more hazardous to leave infantry in the open.

The new ColdTech system also allows the Essence Engine to dynamically paint on and remove snow, meaning that not only does it accumulate on buildings and vehicles, but it can also be melted or removed from objects by the player. Snow also has realistic depth which actually impacts troop movement and will retain persistent infantry and vehicle tracks throughout the match unless covered by fresh snow fall.

On top of the innovations in snow technology the engine allows ice to become a weapon in a smart commander's arsenal. Not only does it have a unique texture, affecting vehicle and troop movement, but it can collapse or be destroyed from underneath troops and vehicles, plunging them into the hypothermic Russian waters. Over time destroyed ice will re-form due to the winter conditions in the game.
On the advancements in technology, Relic had the following to say –
Quinn Duffy, Game Director at Relic Entertainment commented, "Company of Heroes 2 is all about authenticity and no game based on the Eastern Front would be complete without extreme weather conditions. Thanks to the enhanced technology offered by the new Essence Engine we are able to accurately portray the bitter Soviet winter which crippled the German army."
Company Of Heroes fans and newcomers alike are likely to be receptive of these improvements as they add a new dynamic element to the war game genre, a genre that isn't exactly known for innovation. Be sure to check out the Official Site for more info.