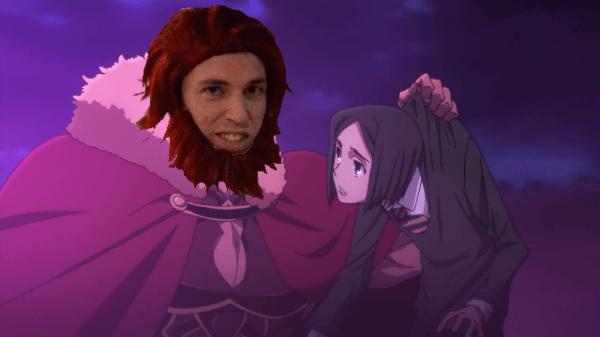 There was a Fate/Zero convention in China this past week. For some strange reason, MasterAbbott ended up there. It was an awkward few hours for all involved. Also there was some huge news on the anime front this week with anime adaptations of JoJo's Bizarre Adventure and Sailor Moon announced. Oh and we did a whole bunch of reviews that you should read. So what are you waiting for? HOHOHO!
Here what made headlines this week:
Gaming News:
– Resident Evil 6 Demo available now to Dragon's Dogma buyers
– Persona 4 Arena's PS3 version to be region locked
– Final Fantasy X HD won't be here any time soon
– Battlefield 3 to introduce matches feature
– ATLUS respond to Persona 4 Arena region locking
– Hidden Ada Wong Campaign in Resident Evil 6
– Paul McCartney collaborating with Bungie
– Miyamoto addresses Metroid for the Wii U
– Playstation All-Stars Battle Royale Director responds to Smash Bros. Comparisons
Pop Culture News:
– Cosplay at Comic Con 2012
– Nic Cage and Russell Grant Celebrate July 4th
– Iron Man 3 Concept Art Revealed
– Breaking Bad Season 5 Trailer
– Dexter Season 7 Sneak Peak Trailer
Anime/Manga News:
– JoJo's Bizarre Adventure Anime Announced
– SMASH! 2012 AMV Competition Voting Now Open
– SMASH! 2012 Pokemon Battle Arena Competition
– Sailor Moon gets Anime Reboot
– Fate Only Event Coverage and Cosplay Photos 2012
Tech/Gadget News:
– Razer and Team Zenith Go International
Reviews:
– Thomas Was Alone Review
– Ben10 Ultimate Alien: The Ultimate Alien Rescue Review
– Gravity Rush Review
– The Amazing Spider-Man Review
– The Walking Dead: Starved For Help Review
– Pokemon Conquest Review
– Spec Ops: The Line Review
– Dungeon Twister Review
– Rosario + Vampire Season 2 Volume 8 Review
– Rosario + Vampire Season 2 Volume 9 Review
– The Amazing Spider-Man iOS Review
– Platoonz Review
– Mahoromatic Season 1 + 2 & Summer Special Review
– Spelunky Review
– Hoodwink Review
– London Boulevard Review
– Jeremy McGrath's Offroad Review
– Where's My Perry? Review
– Ben10 Ultimate Alien: Hero Hoops Review
– Three Wolves Mountain Review
– Heroes Of Ruin Review
See you next Sunday for the CC Weekly Recap.
Related Articles for this post below: