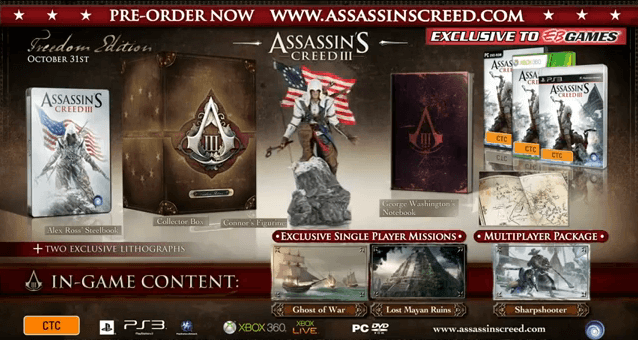 Ubisoft have revealed that Assassin's Creed 3 will be receiving a special collector's edition titled the Assassin's Creed 3 Freedom Edition. As part of their announcement they released a trailer for the Freedom Edition which they label an unboxing. Now this isn't your standard unboxing, it's an epic unboxing backed with suitably epic music. You can check that out below.
The Freedom Edition will come packaged with a limited edition figurine of the new assassin named Connor, a special steelbook with original drawings from Alex Ross (a comic artist), George Washington's Notebook which is a mock up notebook supposedly belonging to Washington himself which features a number of factoids regarding the game, two exclusive single player missions titled 'Lost Mayan Ruins' and 'Ghost of War' and finally an exclusive multiplayer package that unlocks the Sharpshooter character for multiplayer use.
The Assassin's Creed 3 Freedom Edition is exclusive to EB Games stores and is available for pre-order now. Be sure to check out the trailer below for a closer look at all the Freedom Edition's content.