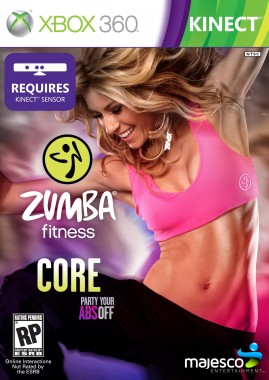 7 Million. That is how many copies the Zumba Fitness franchise has sold worldwide. Are you surprised to hear that a brand new game has been announced? Well, don't be, as Zumba Fitness Core has just been announced (as promised) as one of Majesco's offerings from E3. Now, things are about what you'd expect from the name that has dominated musical fitness on consoles, but fans of the series can look forward to more music, more dance styles, and more of just about everything else all around.
Here is the first batch of info straight from Majesco along with some words from Majesco CEO Jesse Sutton and Zumba Fitness' Chief Marketing Officer, Jeffrey Perlman.
"We have realized tremendous success with our Zumba Fitness franchise that now ranks as the #2 best-selling fitness game franchise of all time, second only to the Wii Fit™ series that pioneered the category," said Jesse Sutton, Chief Executive Officer, Majesco Entertainment. "We know from research that the #1 area women want to transform is their abs and Zumba Fitness Core is the first and only video game to implement this consumer-driven feature. The 'core' focus is in addition to content fans have asked for: more licensed tracks, new dance styles and additional fitness features designed to maximize your total body, at home workout."
"The same way Zumba Fitness revolutionized the negative stigmas of fitness from the 'no pain, no gain' notion to the 'no pain, ALL gain' position, Zumba® Fitness is revolutionizing the idea of ab workouts," said Jeffrey Perlman, Chief Marketing Officer, Zumba Fitness. "The days of crunches are over. Zumba Fitness Core takes a new approach. Participants are standing up, rocking out to amazing music and getting the most effective ab sculpting workout in the market. It is the only party around where you don't have to bring a six pack, but you may just walk out with one."
Rock your core and dance your way to toned, sexy abs with Zumba® Fitness Core, featuring 40 new songs and routines, more than 30 international dance styles from around the world and hot new choreography that's designed to sculpt stronger abs through an exhilarating full body workout. Lose yourself in the music as celebrity Zumba® instructors guide you through choreography set to contagious new Zumba® fitness originals and a broader mix of smash hits from hot artists including Enrique Iglesias and Don Omar (full soundtrack to be announced at a future date).
In addition, Zumba Fitness Core offers even more new and returning features:
Shake it to fresh new dance styles like Brazilian Funk, Polynesian, Celtic Bluegrass, Jive, Jazz, African and Disco that complement Salsa, Cumbia, Bollywood and Reggaeton to deliver over 30 rhythms, more than any other dance or fitness game;
Keep your fitness regimen on track with new personal and community goals plus nutrition and wellness tips;
Experience exotic new venues like Tiki Beach, a Venetian Ballroom and Waterfall Resort;
Learn the basic steps with expanded tutorials that now include Bollywood and Samba styles along with Salsa, Reggaeton, Merengue and Cumbia;
Dance with new celebrity instructors Loretta Bates and Nicholas Logrea who join returning Zumba superstars Beto, Gina Grant, Tanya Beardsley and Kass Martin;
Work out with a friend on Kinect for Xbox 360 or throw a dance party in your living room with up to 3 friends on Wii;
Dance hands-free on Kinect for Xbox 360 and Wii with the included Zumba Fitness belt that lets you holster your Wii Remote.
Zumba Fitness Core will be out this October for the Xbox 360 Kinect and Nintendo Wii. For now, check out the first few screenshots and official boxart down below for a much better glimpse inside what the latest Zumba will have to offer.