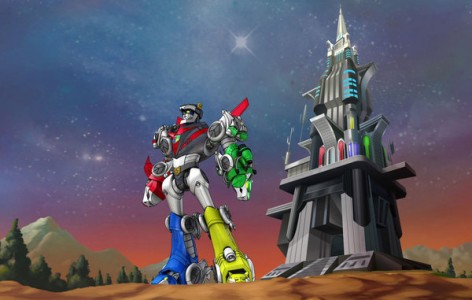 With the Voltron Force animated series still going strong in the United States and Australia. Following the first DVD release of Voltron Force, subtitled 'The New Defenders Trilogy', is the second volume, titled Voltron Force: Powers Unlocked. Voltron Force: Powers Unlocked will be released by Beyond Home Entertainment on 27 June 2012 at a RRP of $19.95.
The release will be on a single DVD and fans can expect similar content and presentation as Volume 1, Voltron Force: The New Defenders Trilogy. Voltron Force: Powers Unlocked once again follows the new Voltron Force cadets as a mysterious hyper-sonic Robeast challenges the Voltron Force. The cadets must also travel to Earth to finish the fight with Wade once and for all. The New Voltron Force faces its toughest challenge to date– taking on Lotor's five predator enemies that combine to form one super Predator Robeast.
The series is currently being shown on the Australian ABC network with more DVD releases and merchandise to be released during 2012.