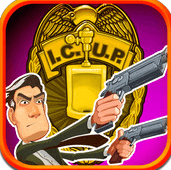 DNA Interactive has announced that for the next five days their new series The Naked Gun: I.C.U.P. can be downloaded on iOS for only $0.99, a massive $4 saving!
The Naked Gun series is guaranteed to leave you in stitches, with that awesome immature humour that Naked Gun is infamous for. The special 'Get NAKED for Under a Buck' promotion gives iOS gamers the opportunity to experience Episode 1 'A date with destiny', the first of several planned Naked Gun episodes. So if you were a fan of the series, or if you just like some good old fashioned immature humour, then make sure to check out the new app series now, for the massive saving, and get your dose of hilarity.
The promotion runs until June 18, so make sure to get it as soon as possible! The game is available for iPhone and iPad NOW for $0.99 HERE.