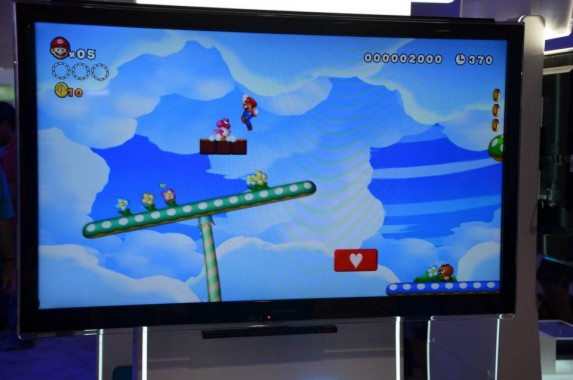 During E3 2012, I was able to get some hands-on time with the Nintendo Wii U along with fellow editors Travis Bruno and Philip Federico. We were able to try out about 3 games, including a Nintendoland minigame, Super Mario Bros U, and the multi-player portion of ZombiU. All three of these demos featured the heavily promoted asymmetric gameplay.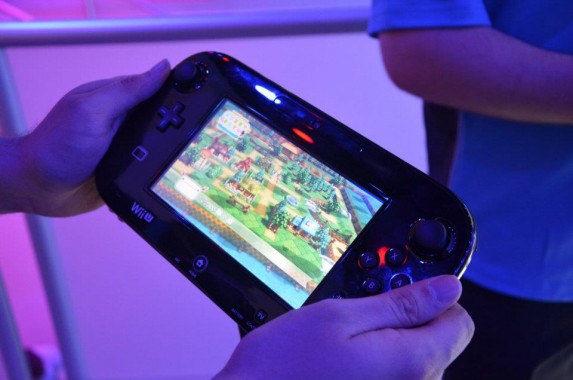 First up was a Nintendoland minigame: Animal Crossing – Sweet Tooth. The object of the minigame was for up to 3 players to collect as much candy as possible, while a fourth player tried to prevent this. The 'candy collectors' used Wiimotes, while the fourth player used a WiiPad. The player on the WiiPad uses both analog sticks independently to control two 'guards' simultaneously. Whether being a guard or a collector, the gameplay was frantic and fun.; it demonstrated the potential the Wii U has. Playing as the guard was quite tough, as you have move two guards with one screen, keep track of where everyone is and be able to move each analog stick independently of each other, in addition to using a tackle button. It was a little bit like rubbing your head and patting your belly at the same time, but in a competitive environment. In addition, playing as a collector was also an adrenaline rush, as I constantly felt like I was being hunted.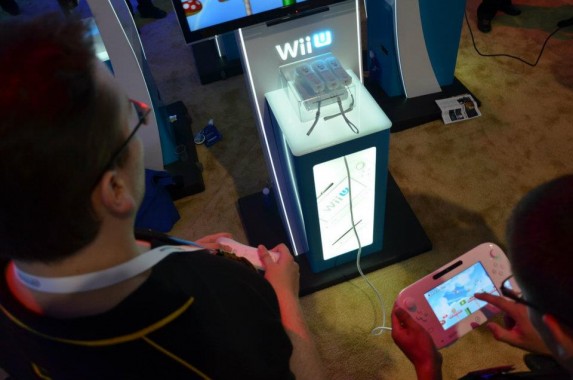 Next up is Super Mario Bros U. This game showcased the Wii U's co-op opportunities. While Travis played as Mario using a WiiMote on the TV screen, I used the WiiPad's touch screen to place blocks across gaps so that it would be easier to beat the level. Super Mario Bros U features support for up to 4 player co-op. However, if you want to play singleplayer, you can also do that, without even having the TV operational. Travis was able to use the WiiPad's screen to play the entire first level, as if it were a mobile gaming system. There was no complicated wire switching or button presses to use this functionality. It just worked.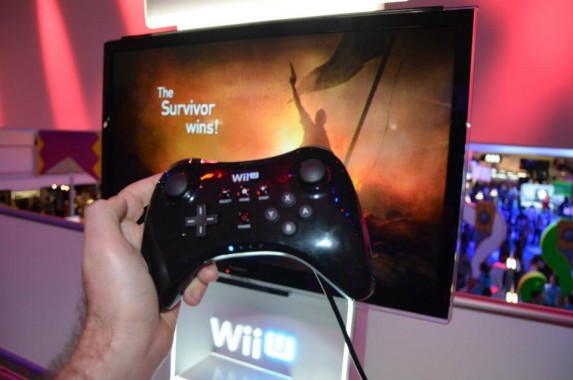 While the previous two games were great fun to play no matter which controller was used, ZombiU multiplayer demonstrated the weakness that asymmetric gameplay inevitably presents. Travis Bruno chose to play as a 'survivor' using the Pro Controller, while I chose to be the zombie horde, using the WiiPad. Travis was able to use the television, while I used the WiiPad's screen. My objective was to capture as many flags as possible by placing zombies anywhere on the map using an overhead view. Travis' goal was to stop me. After we finished the demo and Travis won the round, we compared notes. I found that I was quite bored because the graphics were quite dull and the gameplay simply revolved around me waiting on my attackers to recharge. However, Travis found his part to be exhilarating, as his gameplay revolved around shooting zombies in the face using an FPS camera view. While many Wii U games will undoubtedly support quality gameplay no matter which controller is chosen, there are some games that will invariably have more exciting gameplay modes for one player vs another during asymmetric gameplay. Thus, there will always be a fight over who gets to play as the "fun character" and who is stuck playing as the "tedious character."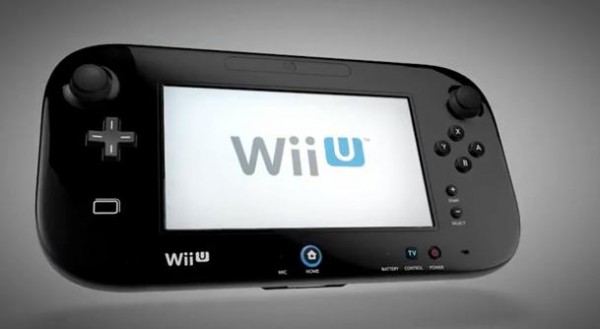 Hardware
Although the WiiPad controller does feel quite large, it is pretty light and I didn't notice it being awkward once the game started. I imagine it might get a little tough after a few hours of gameplay, but that has yet to be tested. The hand grips on the side felt really comfortable and all the buttons were really accessible. Plus, the touch screen was extremely responsive. The WiiPad will really come in handy if you want to play videogames while someone else is watching TV. Hopefully, a ton of games support this feature, as this feature is extremely nice and was a joy to experience.
As far as graphics go, they are a huge, gigantic step up from Wii graphics, as they should be.  While none of the games I played had Crysis-like visuals, they did look quite good on the Wii U gamepad, as well as on 40″ HDTVs.  Undoubtedly, once developers get used to the Wii U, we can expect much better visuals than what was shown at E3.
Unfortunately, I was unable to try out any of the augmented reality, or the gyroscope.
What do you think of the Wii U so far? Let us know if you will be buying one by leaving a comment below.