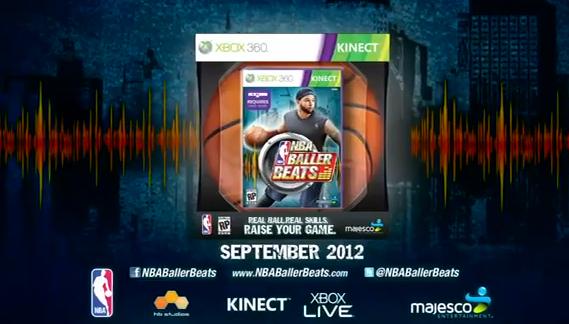 We knew Majesco would be showing off NBA Baller Beats for the Kinect at this year's E3, but we didn't know how exactly the game would actually work. I myself was surprised when the game touted that players will have to use a basketball in their living room, as the concept alone sounds ludicrous. Well, the game's reveal told all today, and oddly enough, I'm liking what I am seeing so far.
NBA Baller Beats is all about using a basketball and dribbling and moving it to the beat of each song that is played. Yep, think guitar hero, add in a ball and toss out that plastic guitar, and you have this interesting and truly unique blend that is sure to capture the interest of all fans of the sport.
While the concept is worth a lot of mention, the soundtrack is also quite awesome and jam-packed full of talent that should be fantastic to practice your court skills with.
Here is a bit more information, as well as an early track reveal for NBA Baller Beats:

NBA Baller Beats challenges players using a real basketball to master ball-handling skills by dribbling and performing moves to the beats of an eclectic soundtrack. Train alongside your favorite NBA franchise unlocking songs, difficulty levels, environment accessories, and over 100 posters and Panini's 2012 NBA HOOPS trading cards that showcase NBA players' greatest moves. The music is your guide as the Kinect motion sensor captures every movement of both player and ball to create an entirely new basketball gaming experience. Master crossovers, pump fakes, behind-the-back, around-the-world and more as you bounce the ball to the beat of 30 licensed tracks that span across decades and genres including hip-hop, rock and old school classics. Today Majesco Entertainment officially announced 15 of the 30 songs featured in-game.
Confirmed NBA Baller Beats In-Game Tracks (15 of 30):
"Amazing" – Kanye West*
"Another One Bites the Dust" – Queen*
"Bangarang" – Skrillex
"Blue Sky" – Common*
"Bust A Move" – Young MC
"Chillin" – Wale ft. Lady Gaga
"C'Mon Catch 'Em By Surprise" – Tiesto vs. Diplo ft. Busta Rhymes*
"It's Tricky" – Run DMC*
"Let It (Edit Remix)" – Machine Drum ft. Melo X
"New Fang" – Them Crooked Vultures*
"Obstacle 1" – Interpol
"Party Rock Anthem" – LMFAO*
"Slam" – Onyx*
"Stylo" – Gorillaz*
"Tightrope" – Janelle Monae*
NBA Baller Beats will also come packaged with a Spalding Ball from the get-go, and feature your standard $59.99 price tag when it launches for the Kinect. There are 30 songs in all, with 20 different maneuvers mixed into the main game. GameStop is also taking pre-orders now as the game hits shelves in September, and anyone who does so will receive a free assorted 3-pack of NBA Fathead 5×7 Tradeables featuring top NBA players, while supplies last.
Looking good, right? Well, I know that some are going to mention the carpet issue and how some homes just are not made for sport of basketball…as vases can be broken and mothers of Brady children can get mad quickly. I don't imagine that fans of basketball will mind though, as I can easily see thing being a centerpiece at practice sessions on the court, and being heavily used by families that tune in to every game. There is a market for this game is my point, and NBA Baller Beats looks to be one title that is out to pull away from the crowd and take a risk. Yes folks, this type of thinking is what the Kinect is all about. Check out the official trailer below for yourself, and stay tuned as we have even more Majesco E3 reveals on the way.