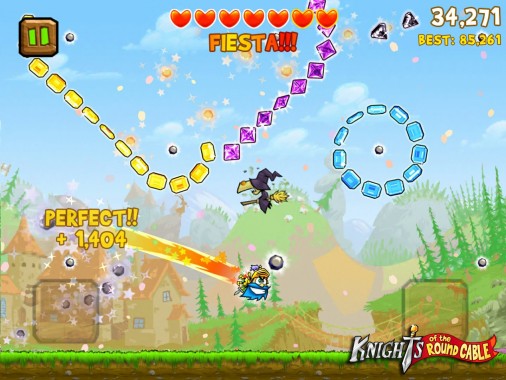 Chillingo and Focus Home Interactive have released both a trailer and the official website for the new mobile game Knights of the Round Cable, which was a big hit at E3 this year.  Players can check out the trailer below to see some of the grapple-tastic gameplay for the game that is set to release in July for both Anroid and iOS.
Knights of the Round Cable is simple enough to grasp in terms of gameplay, as the knight swings from anchor to anchor to collect gems, dodge enemies, and ride a gigantic bird as players try to perfect the timing of moving from point to point and change direction on the fly.  It's great to see some fairly innovative gameplay in a mobile game, while still keeping it simple and intuitive hopefully it can keep up the momentum from E3 and it closes in on its release.
Check out the screenshot gallery below and check out information from the games website HERE.