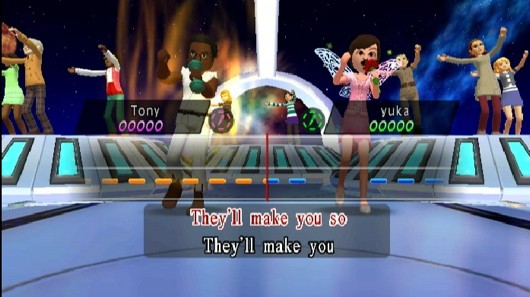 Having just learned about Karoke Joysound a few weeks ago, I was surprised to be able to demo the game today at E3 2012.  Fellow editor Travis Bruno and I sang along to All Star by Smash Mouth, which is one of 37 songs that will be available on the disc when it launches this autumn.
The unique feature of this game is its streaming library.  There will be over 1,000 songs online that can be played, if your willing to pay a subscription fee. New songs will also be monthly to the Netflix-style subscription service. For access to the music in a 24 hour time period, the price is 500 Wii Points, while a 3 day ticket costs 1,000 points, and a 30 day ticket is 1,000 Wii points.
You can customize an avatar to do background dancing, or play without one; its up to you. While single player gameplay is available, the multiplayer functionality is the most exciting part of this game, as it should be for a karaoke game.  8 people will be able to play 4 microphones. These microphones can apparently distinguish between two separate people, so that 2 people can use one microphone, simultaneously.
Gameplay is pretty standard for a karaoke game.  You'll sing along, trying to match the onscreen keys and timing, while being scored on accuracy.  Of course, you can also customize how fast the song will play, and what key the song should be played in, thus allowing you to customize the gameplay to fit your vocal talents.
Graphically, the game looks about as blurry as any other Wii game. Nevertheless, the game played fairly well and I thought it recognized my singing pretty well, considering how badly I butchered every note.
All in all, Karaoke Joysound appears to be a fairly standard karaoke game.  Other than an interesting subscription music service, this game is not too much different than other Nintendo Wii music games.