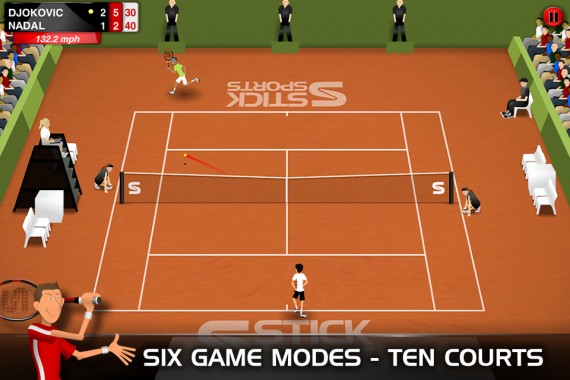 If you haven't been living under a rock, you'd probably know that Rafa Nadal made a shock exit last night at Wimbledon and that the 3rd round starts today with favourites like Federer, Djokovic, Sharapova and Serena Williams still in the running for the title of the 2012 king/queen of grass. If all this tennis buzz hasn't been able to get you off your bum and actually play tennis, why not play on your couch with Stick Tennis!
Heard of Martina Shankitova, Horan Ivanitchisac or Moanica Shrieker? Probably not, as these are just some of the player caricatures, perhaps of Martina Navratilova, Goran Ivanisevic and Monica Seles, that you can play against in this tennis game for iPhone, iPad and iPod Touch. Players can even choose to play against the 90s Mullet Andre or the 2000s Bald Andre. From the makers of Stick games including Stick Cricket, Stick Football and Stick Baseball, players use simple fingered swipe motions to control the direction and timing of the ball to try and push their way to victory. Also, players are able to play competitively with the use of a daily world ranking table. Additionally, over 64 customised opponents are available, from current tennis stars to the legends of tennis past, in the World Domination and The Slam game modes.
Check out the video below and download Stick Tennis for free on iTunes with The Slam and World Domination game modes at 69p and £1.99 respectively at: http://itunes.apple.com/app/stick-tennis/id507086545
Who do you think is going to win Wimbledon this year? Let us know in the comment box below.