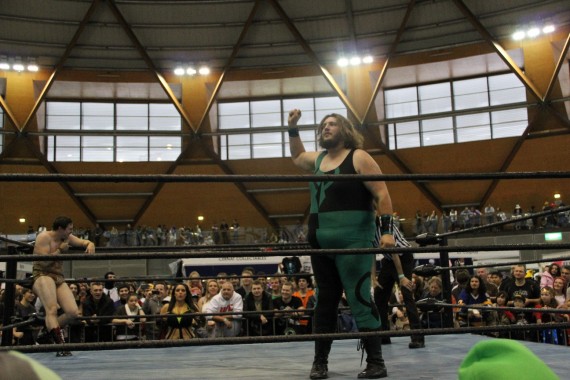 We at Capsule Computers simply love the glorified male soap opera that is known as Professional Wrestling. In fact, we love it so much that we decided to share our love for this glorious sport in the form of our podcast series, CC Powerslam. You can also check out our monthly Pay Per View coverage for the World Wrestling Federation, and now Total Non-Stop Action Wrestling. With our passionate love for watching grown men pretending to beat each other up, we couldn't help but notice the presence of Australia's home grown wrestling federation at Supanova 2012.
This weekend at the Supanova pop culture convention, the Australian Wrestling Federation (AWF) was present in full force just like last year. They had an entire ring set up at the middle of the convention, with wrestlers of the AWF working matches in front of the live audience. It's a smart way to promote and spread awareness, introducing their wrestling product to a whole host of pop culture enthusiasts.
Now it's no secret that professional wrestling and little people go together like butter on toast, just ask WWE superstar Hornswoggle, and the AWF maintained this time honoured wrestling tradition by having actor Verne Troyer (best known for his role as Mini-Me in the Austin Powers trilogy of movies) serve as the guest announcer for the matches. The matches that followed did what they were supposed to do, entertain the crowd there, and needless to say there were plenty of laughs but at the same time some decent wrestling matches.
You can check out one of the matches embedded here for your viewing pleasure, a match that serves as a classic homage to the era when professional wrestling was, and perhaps rightfully so, a circus act.