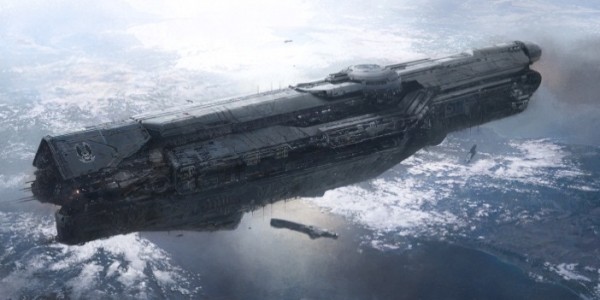 As the days go by more information about Halo 4 is slowly coming out of Microsoft. We've already heard about the special editions that will be available for those who want to drop $100 when Halo 4 is released and now they have revealed what fans of the series can expect out of Halo 4's multiplayer.
Through weekly episodes, players will be able to take part in Spartan Ops. These Spartan Ops tell the story of the above pictured UNSC Infinity. The UNSC Infinity also happens to be Halo 4's multiplayer hub. The story of the UNSC Infinity will center around the "UNSC Infinity leaders and crew, and a new team of Spartans – Majestic Squad." These episodes will offer new missions that allow up to four players to see "corners of Requiem in these objective-based missions, and help uncover the secrets of the mysterious Forerunner world."
War Games will be Halo 4's competitive multiplayer mode and in this mode players will be able to customize their Spartan's armor as well as enable "combat enhancements" which will alter their character to better fit their play style, offering a Halo experience unlike anything players have had before.