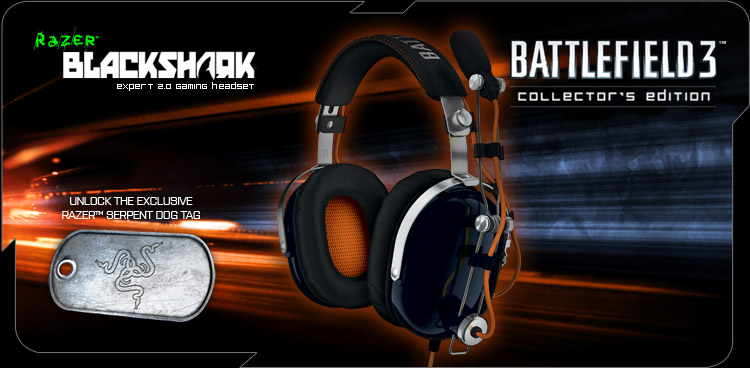 The Razer Blackshark is an amazing looking device and is branded with the Battlefield 3 logo for gamers who absolutely love their Battlefield experience. What makes this headset the most interesting though, is it's design.
The Blackshark is designed to be very similar to an actual Attack helicopters headset, like from the military, so gamers who love their helicopters will absolutely get the full effect of being a pilot with these headphones. The headphones also promise to deliver an Aural delivery of maximum force, so that players can hear the rattle of a machine-gun and the intensity of an explosion right across their ears.
On the headphones RazerGuy had this to say –
"The Razer BlackShark is a PC gaming headset with crisp audio and booming bass that is built for a highly intense shooter like Battlefield 3," said Robert 'RazerGuy' Krakoff, president of Razer USA.  "It lets you hear the gunfire, the explosions and the thunderous roar of the jets, as if you were in the heat of the battle.  Designed based on headsets sported by real attack helicopter pilots, no serious soldiers on the frontlines of Battlefield 3 should be without their Razer BlackShark."
The headphones are quite impressive and feature some amazing features. These include a detachable microphone boom, ear-cup design, audio and mic splitter, ear cushions and 40nm magnet drivers to really push that sound.
Be sure to check out the Official Page for technical specs and pre-order details. The device should be available July 2012 and will retail for $129.99US.