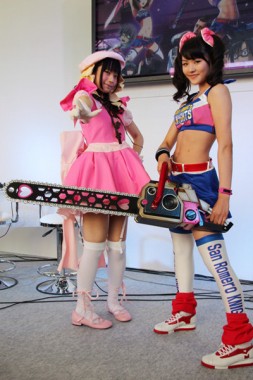 While we are familiar with the official North American cosplayer for Suda 51's upcoming zombie killing action game, Lollipop Chainsaw, we have also been introduced to the official Japanese cosplayer for the game.
The lovely Jessica Nigri won a nationwide contest to become the official 'Juliet Starling'  cosplayer in North America. Jessica Nigri certainly does a brilliant job in portraying Lollipop Chainsaw's leading lady, but that said, Japan needed a lady to portray Juliet Starling for them. That lady has been chosen, and her name is Mayu Kawamoto.
While she is not a blonde, she still is cute and offers a more Eastern take on Juliet Starling. You can see her in action in the video below.