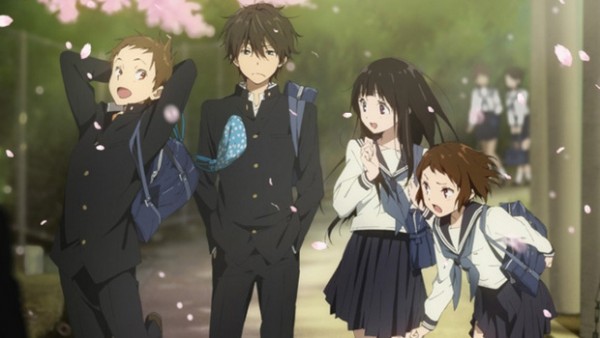 Recently Japanese media site Biglobe posed the question of 'What is your favourite Spring 2012 Anime?' Over 11,000 Japanese anime viewers sent in their response to the question. The results may surprise you, or not. The most popular Spring 2012 anime series are as follows:
1. Hyouka
2. Fate/Zero 2
3. Accel World
4. Sankarea
5. Nyarko-san: Another Crawling Chaos
6. Kids on the Slope
7. Saki Achiga-hen episode of side-A
8. Space Brothers
9. Is This a Zombie? of the Dead
10. Kuroko's Basketball
11. Jormungand
12. Kimi to Boku. 2
13. Polar Bear's Café
14. tsuritama
15. Acchi Kocchi
16. Dusk Maiden of Amnesia
17. Medaka Box
18. Natsu-iro Kiseki
19. Shining Hearts -Shiawase no Pan-
20. Hiiro no Kakera
21. EUREKA SEVEN AO
22. Mysterious Girlfriend X
23. Zetman
24. Queen's Blade: Rebellion
25. Upotte!!
26. Phi Brain: Kami no Puzzle 2nd season
27. AKB0048
28. Saint Seiya Omega
29. Pretty Rhythm Dear My Future
29. Himitsu Kessha Taka no Tsume Neo
31. Cardfight!! Vanguard: Asia Circuit Hen
32. Transformers Prime
33. Yurumates 3D
34. Kuromajyo-san ga Tōru!!
35. Arashi no Yoru ni: Himitsu no Tomodachi
36. Gon
Did your favourite series make the cut? Mine did, just between me and you I'm a huge an of Kids on the Slope. Curse you Hyouka or tapping into the Clannad and Haruhi Suzumiya audience! What do you think of this list? Would you make any adjustments? Let us know in the comments section below.