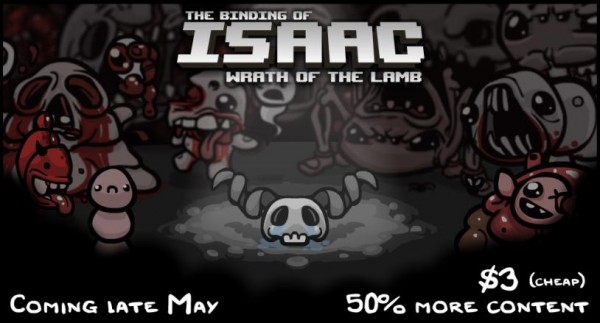 It's no secret I've been addicted to The Binding of Isaac. It started during Steam's huge Christmas sale, when I picked up the game for $1.50 – and then spent 75+ hours on it over the following months. At 2 cents per hour of entertainment I've gotten out of it, you simply won't find a better deal than that.
Except, you will. Come May 28, a measly three dollars will expand the game's already-abundant content by an extra 50%.
Co-creator Edmund McMillen detailed the upcoming expansion, Wrath of the Lamb, via Twitter, before his Twitter account mysteriously shut down. The details are still doing the rounds though, having been saved and spread by fans, so hopefully the info is still reliable.
Apparently, McMillen stated that the expansion will add more than 100 new items, an extra 10 bosses, 20 enemies, 4 chapters, 1 character, 6 rooms, 40 "unlocks", 4 music tracks, 5 cards, 4 pills, 5 ultra-rare pickups, 7 unspecified "random happenings", 10 challenges, a metric "buttload" of new achievements, and a new, supposedly final ending.
Seriously, I'm not going to have any time for any other games after this. If you haven't played the game at all yet, give it a go. It's a fantastically addictive, randomly-generated RPG with a dark, humourous style to it. Check out the expansion's announcement trailer below, for an idea of what to expect.