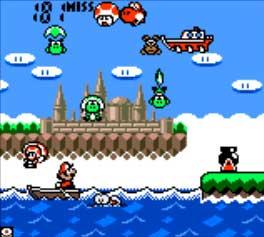 Have you by chance downloaded Mighty Switch Force yet? Well, if you haven't, it's a spectacular eShop title that comes from the gaming gurus behind Shantae, and is well worth your digital bucks. Those who already have the title and newbies to the game alike are in for a treat today, as Wayforward have released a huge update, adding in 5 new levels and a retry button for speed runners. This DLC of sorts is free to all who own Switch Force and will cost nothing extra for those who are just discovering this gem.
IF you're more into the classics, the virtual console is seeing a bit more life this week with Game and Watch Gallery 2, which of course originally seen life on the Game Boy. Chef, Vermin, Donkey Kong, Helmet and Parachute are featured within, and players can choose to play either the original and updated versions of each for just $3.99.
Finally, we have a Madagascar 3 trailer in Nintendo Video this week, as well as a nice little puzzler by the name of Snakenoid Deluxe for the DSiWare that is priced at $4.99.
Yes, this is a pretty decent lot this week, but remember, we do have the 1st of the month approaching rapidly, meaning more freebies for Club Nintendo Rewards members, so prepare your coins and remember, the more you download, the more coins you earn!