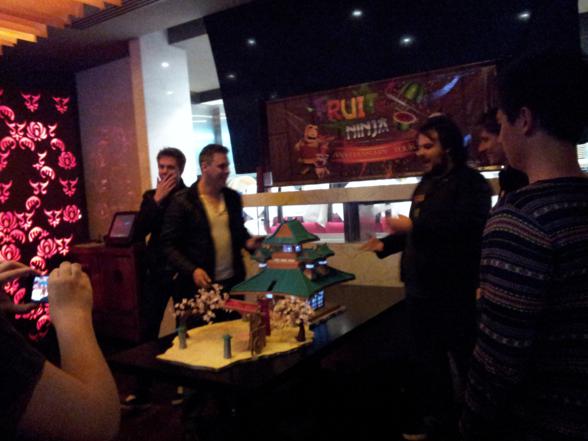 It was approximately 6:30pm on the 30th of May when one of Australia's more awesome tournaments were being held. This tournament encompassed many of the countries major states in a search for a Master Ninja. A Ninja so masterful that they would be able to conquer to the top of board in one of the most popular iOS apps, Fruit Ninja.
The top competitors from three states, NSW, QLD and Victoria were all present at this event in what would become the most masterful of Ninja showdowns, ever. Representing each state was Contsu(Spelling and pronunciation assistance required, it's what it sounds like in my recording and similar to what I heard whilst I was there)? from Brisbane, Tashi (Taji?) from Sydney and Jess from Melbourne.
The event started off at a casual pace, members of the community and media coming in and winding down, getting an opportunity to relax. We were even bale to play the game on some iPad devices that were hooked up to some kiosks to showcase our Ninja skills. Now I assumed that I was doing okay with my not-so-bad 300-400pts, but later on when I saw the finalists playing, I suddenly knew that I had met players with a lot of game. Anyway back on story.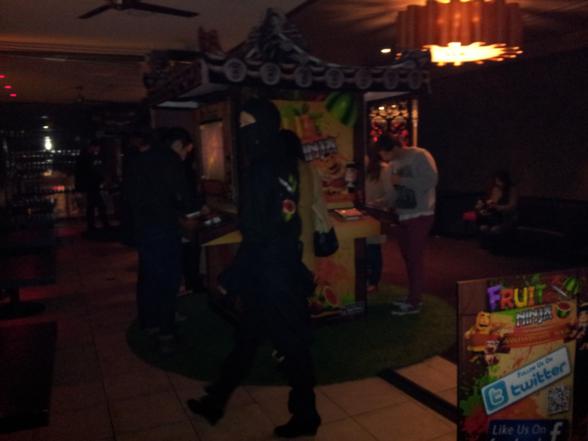 During the evening there were many shows that had been taking place. My favourites were when the culinary staff came out, dressed as Ninjas, and did some Fruit Ninja style cuts on some pieces of fruit. Unfortunately for some of us audience members at the front, we did catch some fruit with our groins. Fruit like watermelon and bananas. In the groin.
Another favourite show of mine at the event was when they had a school of guys doing Tae-Kwon-Do come out and perform some acrobatic-jutsu that wouldn't be too effective in the middle of a fight. I had actually spoken to some of them earlier and they were a pretty nice group of guys, they could probably kick your ass too. Unfortunately I don't think there any actual real Ninjas at the event, which was kind of a shame. The Tae-Kwon-Do students (and myself(I briefly studied Ninjutsu)) were the closest things there.
[pro-player width='530′ height='253′ type='video']http://www.youtube.com/watch?v=eyKqMR9FXSI[/pro-player]
We also managed to grab an interview with the CMO of Halfbrick, Phil Larsen, which will be available for everyone to watch at this link. The interview itself was pretty short, but I think that there is some good info for everyone out there who is interested in these kinds of things.
After a couple of rounds it was time for the finals, where the three finalists combatted for the top spot to win a trip to Japan, home of the legendary Ninjas. Hopefully this trip to Japan will spark some interest in Ninja culture with the winner and may even pick up the art themeselves. But whatever they get up to over there, we wish them all the best and the most fun that they can have. The winner of the finals, after a highly intensive battle, was Jess who won with over 3k (cumulative) points. Congrats to you!
I had actually spoken to the winner briefly after the event and found that she was quite ecstatic to have won. Who'd have thought that being good at a game could lead to winning a championship and heading to overseas? I bet Jess didn't, but now she does.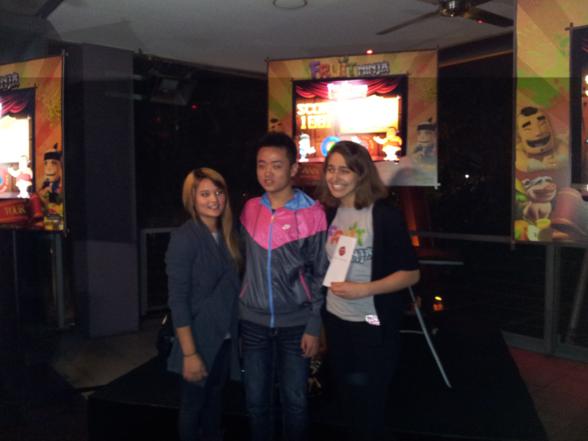 The event ended on a fairly nice note with the staff of Halfbrick cutting into their massive cake that was provided to them by one of the guests. It was a magnificent cake, I have to admit. I was blown away when I actually learned that what the cake was was actually a cake. I assumed it was some kind of ornament or decoration. Props to the cake maker!
Overall it was an incredibly interesting night and one that I'll probably not forget (even if I had 12 glasses of wine) and I would love to be in attendance for more events like this in the future *cough cough*. Seriously though, it was an incredibly fun experience and congratulations to all of the finalists and in particular the winner.