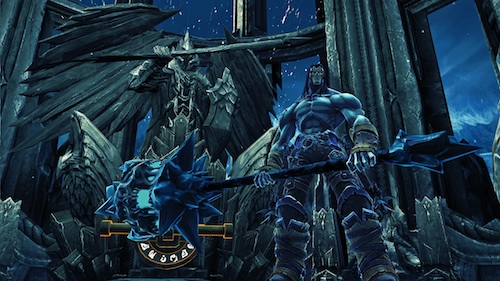 I got a chance to sit down with the Darksiders II creative manager, Jeremy Greiner, to have a chat with what the new Darksiders will bring to the table, what they've changed from the first game, and what we can expect from the new horseman, Death.
First off, the big question that you think of when it comes to Darksiders II is what it'll be like to control Death, and will it in fact have a different feel to it than playing as War in the first game. Greiner assures that Death will be an entirely different character, with a different personality, combat style, and feel to the game. There will still be similarities to the original game, of course, but the difference will be obvious. And not just because Death has a wicked looking scythe set instead of the kickass sword.
Darksiders II will also have double the content of the first, with even vaster worlds to explore and conversation trees that can lead to further stories to explore. As well as the big main quest there are even more side quests to take on, if that's your kind of thing.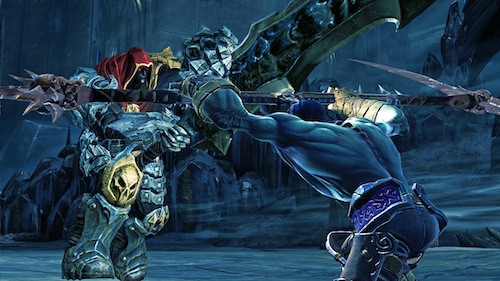 In developing Darksiders II, Vigil Games made sure to take on fan feedback in order to make Darksiders II a game that fans are happy with. This included bringing in the horse riding far earlier in the game, in fact in the first chapter of the game you're riding a horse. Which, since you're a horseman, makes a lot of sense. And you also get to take on a boss while on horseback, which is certainly something to look forward to. There is also reduced backtracking within the game, which will be a much welcome change, as well as a customization element that was missing in the first one.
Greiner also mentioned that the other two horsemen, Famine and Conquest would be making an appearance. While they won't feature heavily in the story (with a side note that their stories may be explored at a later date, of course that depends on how successful this second game of the franchise goes), it is pretty cool to get a closer look at these horsemen and get a feel of what they're about. Personally I really want to see what Famine's weapon is going to be. Giant spork maybe?
Kidding aside, the horsemen have a great amount of mythology and possible back story behind them, and it certainly will be interesting to explore more of that and the relationship between all the horsemen.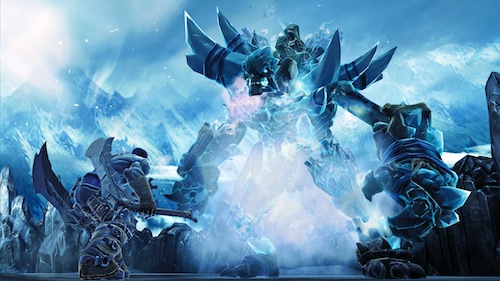 Last of all, there's the fact that a premium title such as Darksiders is being released on WiiU. Nintendo is making sure that everyone remains tight-lipped on details, but Greiner did reveal that since the WiiU is a next gen console we can expect it to really impress. Plus, he hinted that it will definitely be a unique experience and will make use of the WiiU controller's abilities.
If you are a Darksiders fan, or just someone who could totally have some fun playing as Death and exploring a range of dungeons and other worlds, this looks like it could be the perfect game for you. As the first Darksiders was Vigil Games' first project, they've certainly spread their wings with the second one and started really getting into the meat of the content and focusing on increasing the scale massively.
Darksiders II is due for release on August 14, 2012 in the US on Playstation 3, Xbox 360 and PC. The WiiU's date set for a tentative late 2012. Keep tuned to Capsule Computers for more news on Darksiders II as it is released.