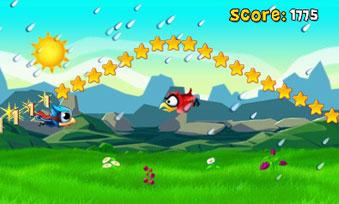 If you happen to have a low balance in your eShop account, you are in luck as this week's Nintendo Downloads features the lowest priced eShop title yet. Bird Mania 3D has you steer a small bird to Africa. Along the way, this specimen can dash, soar, and glide to his goal, while collecting bonuses and stars, with 3D hand-drawn graphics in full display. Not a bad deal at all for just $1.99.
Next up is a RTS by the name of Amoebattle, where players have to stop a mysterious infection by getting microscopic. All single-celled troops can be controlled with the touch-screen, with plenty of amoebas ready to go to war. Amoebattle can be found on the eShop and DSiWare for $4.99.
Finally, after a good wait, Super Hang-On is the latest title to hit the Wii Virtual Console for 900 Nintendo Points. Super Hang-On has been ported time and time again throughout the years by Sega, and it seems these bikes are gassed up again for Nintendo and those looking for yet another arcade classic should take notice.
That wraps up this week's downloads for the first week of May. So which title are you capturing this time?