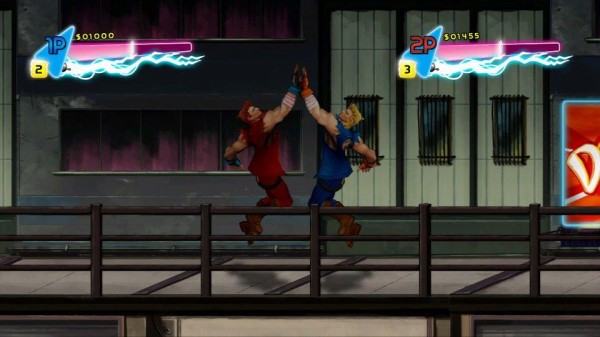 Everytime I see that Wayforward are bringing back a classic franchise, I feel a bit warmer inside. This time, the retro-fueled developer have their eyes set on Billy and Jimmy, as Double Dragon Neon was announced a bit earlier today and will be yet another project headed by Majesco and Wayforward.
If you are expecting an old-school, 2D beat-em-up though, you might be surprised to know that this old dog has been given a complete facelift and features a more modern and detailed 3D-ish art style.
Here is a brief description from the game's Facebook page:
Grab your BRO and get ready to rock!
Billy and Jimmy are back to celebrate 25 years of being the Best Around!
Pick up weapons! Throw fireballs! Knee thugs in the face!
Collect Power-up songs and put them onto your custom mix tape!
Travel to strange places like SPACE and the mystic orient, kicking everyone's butt along the way!
Fight thugs, monsters, huge bosses, and save Marian.. If you can!!
Coming Summer 2012!
As of now, a few screenshots is all that we have in the form of a preview, but much like the title states, this will in fact be a neon-lit reboot that generations new and old are sure to enjoy. Check out the brand new screenshots for yourself below, and you can head over to Double Dragon Neon's freshly baked Facebook page here while you await this beauty to hit the XBLA and PSN this summer.