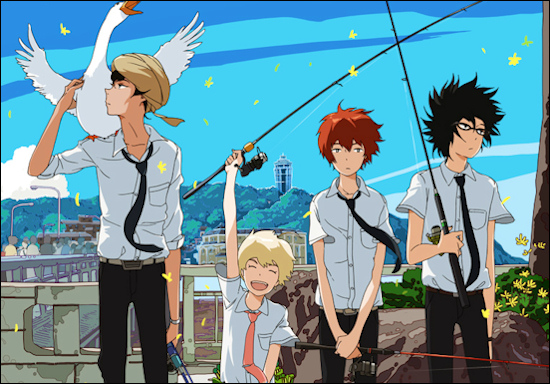 Sentai Filmworks have announced that they have licensed Spring 2012 anime season series Tsuritama and Dusk Maiden of Amnesia. Both series began two weeks ago, so Sentai were certainly very quick to pick up these two titles hot from Japan. Both series are set to be released digitally and physically. No dates have been confirmed for either series however.
Tsuritama is airing on the popular late night anime slot 'noitaminA' and is directed by the brilliant Kenji Nakamura (C – The Money and Soul of Possibility Control). The series itself revolves around a group of youths who decide to take up the hobby of fishing.
Dusk Maiden of Amnesia is based upon a manga of the same named created by mangaka 'Maybe'. The series focuses on an academy that has a history of hauntings.
Both Tsuritama and Dusk Maiden of Amnesia are currently simulcast on the Crunchyroll anime streaming service. What do you think of Tsuritama and Dusk Maiden of Amnesia being licensed by Sentai? Let us know in the comments section below.