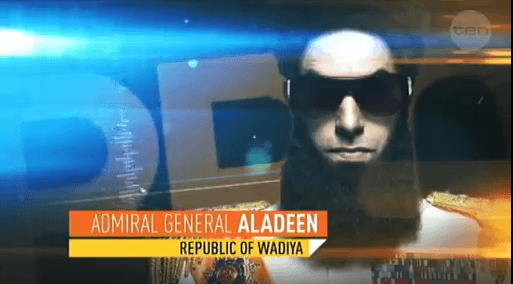 It seems that even a Middle Eastern dictator has time to appear on an Australian show, with General Aladeen phoning in on an episode of The Project. The Dictator, as can be expected, made some wildly insulting but super hilarious jabs at Australian prime minister, Julia Gillard, and North Korean supreme leader, Kim Jong-un. But what else can you expect? He is a dictator after all.
The interview itself runs for about three minutes (4:00-7:00), and can be found on The Project website HERE.
Is that not enough to whet your The Dictator appetite? Well check out the short clip below of The Dictator trying to fit in with American society while chatting with Anna Faris.
Promising to be yet another highly offensive, and crazy entertaining film by Sacha Baron Cohen, The Dictator will definitely be one of those movies that you have to check out. If you love that kind of humour that is.
The Dictator is due for release on May 10th.